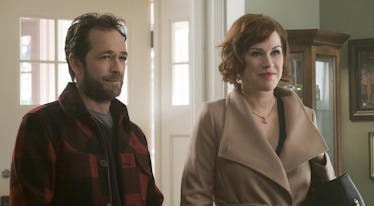 There Is Officially A New Mom In 'Riverdale' Season 3 & Fans Already Have Theories
CW
Mary Andrews will be coming back to town in the upcoming season of Riverdale, and fans think that she may be bringing a special someone along with her. The cast is welcoming a new actress, and fans think that means Archie's mom might get a girlfriend in Riverdale Season 3. That would certainly shake things up in Riverdale, but is this theory true? Let's go over all the details.
The actress in question is Penelope Ann Miller, a film and Broadway veteran who has joined the cast of Riverdale for its third season. With Season 3 currently in production, Miller has recently been sharing several behind-the-scenes photos of herself with the cast, which of course has caused fans to start wondering what Miller's role in the series could be. Out first possible clue comes from a photo that Miller shared alongside Molly Ringwald and Robin Givens, who play the oft-absent Mary Andrews and the recently ousted mayor Sierra McCoy on Riverdale. Miller captioned the photo by calling everyone in it "fun working moms." Hmm, could that mean that Miller will be playing a working mom like Mary Andrews or Sierra McCoy? Or she could have very well just been referring to the fact that all three actresses are moms.
The only other real hint that we have gotten about Penelope Ann Miller's new character is that she will share a scene with Fred Andrews and Hiram Lodge. Miller shared that she was working night shoots alongside a photo of herself with Luke Perry and Mark Consuelos. She has also shared pics with Skeet Ulrich (F.P. Jones) and with KJ Apa (Archie Andrews).
It definitely looks like Penelope Ann Miller's character will be more involved in the adult world of Riverdale and not so much with the teenagers. But how will she be involved? Well, the best thing that we have to go off of right now is an uncredited Wikipedia entry. Miller's Wikipedia page lists her role on Riverdale as "Mary Andrews' Girlfriend" for an eight-episode arc. However, we should probably take that with a grain of salt, since we all know how unreliable Wikipedia can be, and I was unable to find any source for that entry. Still, for right now, that is the most solid theory we have to go off.
If Riverdale really is introducing Penelope Ann Miller as a girlfriend for Mary Andrews, it could lead to some drama within the Andrews household. It would also seem to ensure that Mary Andrews may get a major arc this season, as opposed to just popping into town for an episode or two as she's done in the past.
But since this theory is still just a theory, there are still a bunch of other possibilities for who Penelope Ann Miller may be playing. One of the main guesses among fans is that Miller could be playing Jughead's mom, who has been completely absent from the series up to this point. Other guesses I have been seeing include Kevin Keller's mother, or perhaps the mother of Betty's unsettling new neighbor Evelyn Evernever.
We will find out who this mysterious new character is for sure when Riverdale Season 3 premieres on Oct. 10, 2018 on the CW.