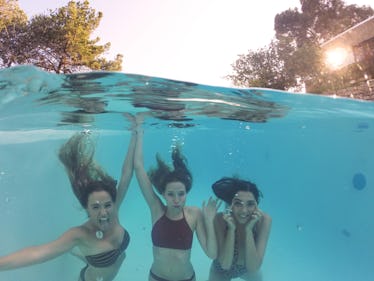 April Will Be The Best Month For These 3 Zodiac Signs, So Get Excited
Pat yourselves on the back for pushing through the last few dregs of winter because April is finally here. It's officially the season for sweet-smelling flowers, cascading rain showers, spending time in a thawing outdoors, and enjoying a much needed spring break. With Aries season still spreading its contagious wildfire all throughout our hearts, we're jumping straight into April and refusing to look back. By the end of this month, we'll have grounded ourselves in the earthen energy of rejuvenating Taurus. This month is one that will throw us out of our comfort zones, only to bring us back and remind us that we're safe. If it feels like any other month to you, think again because April will be the best month for these zodiac signs: Aries, Taurus, and Leo.
Although we'll be leaving Mercury retrograde in the dust on Apr. 15, we're replacing that challenging energy with Saturn retrograde on Apr. 17 and Pluto retrograde on Apr. 22. The madness never ends, the stars can promise you that. After all, these retrogrades may put us through Hell but we almost always come out the other side a lot stronger.
On the bright side, the sun moves into Taurus on Apr. 20, which will infuse many of us with confidence, clarity, and stability. Venus also moves into Gemini on Apr. 24, dazzling us with enchantment and wit. If you're an Aries, Taurus, or Leo, you're in for a beautiful adventure:
Aries: You're Ready To Conquer Anything
Your first house of the self has been absorbing powerful energy from the sun in your sign, Aries. You'll feel energized in every aspect of life, like you can handle anything that comes your way. You'll be eager to jump on new opportunities, to take in knowledge wherever you can, and to make new friends that have so much to show you. Look in the mirror and you'll love what you see. This April, you'll want to show everyone what you're made of.
You should use this confident state of mind to really go after your goals. If there's anything you've been dreaming about, don't waste any time. Put all your eggs in one basket and fight for your success like you've never fought before. You have all the strength right now.
Taurus: Your Charisma Will Take You Far
Until Apr. 24, Venus soaks its dreamy energy in your sign, Taurus. This will fill you with romance from head to toe, and you will be emanating poetry wherever you go. You'll be surprised by how easily you can engage in conversations, by how witty the words that come out of your mouth are. You're feeling very much like your best self and your effervescent nature will be contagious to everyone you meet. Don't be surprised if people are fighting to be around you.
To further take you to the top, the sun moves into your sign on the 20th. You'll feel like royalty, like you deserve to be adored. Trust me, you do.
Leo: Everyone You Meet Will Fawn Over You
With Venus supercharging your tenth house of social status, you're right where you want to be, Leo. You feel like everything is right in the world when your loved ones are going out of their way to express just how much they love you. With April's planetary aspects, everyone will be reminded of just why they're your friend in the first place. This month, you'll be especially in touch with your theatrical side and everyone in your vicinity will be entertained and in awe of you.
To make matters even better, Uranus, your love planet, will be gracing your love life with with passion and romance. This is a perfect month to spend quality, unforgettable time with your partner. And if you're single, get out there and flirt with some hotties!