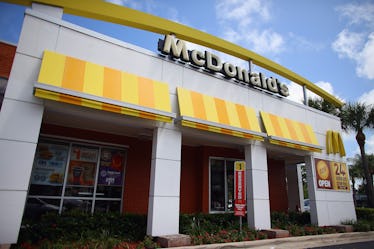 Genius App Reveals When McDonald's Ice Cream Machines Are Broken & We're Lovin' It
Joe Raedle/Getty Images News/Getty Images
Technology is truly a wonderful thing. Thankfully, people are using these tools for good, and if you need some convincing, just take a look at Ice Check. This app reveals when McDonald's ice cream machines are down, and it's pretty much one of the most innovative gadgets known to man.
Let's be honest: There's nothing worse than a food craving. Until said food makes its way into your mouth, the longing can be excruciating. Imagine having to forgo your favorite snack because it is unavailable? The horror. This app is one way you'll be able to keep dibs on the ice cream situation, so take a deep breath.
Ice Check's creator, Raina McLeod, experienced a food craving of her own: an Oreo McFlurry. But sadly, the delightfully sweet treat was unavailable, so she decided to turn her own food blues into something extraordinary. Ms. McLeod, your selflessness is an inspiration to hungry foodies everywhere.
"I came up with the idea for the app around a year ago, after a late-night Oreo McFlurry craving went unfulfilled due to the ice cream machine being down," she told BuzzFeed.
It is because of McLeod's bravery that you no longer have to suffer, should an ice cream machine at the McDonald's near your home be broken. App users will receive push notifications regarding the status at their local Mickey D's, which is based on the community's input. Customers have the option to gray out a particular location's icon by turning the ice cream machine status to "off," indicating that the machines are not working. Pink, however, is good news — that means the machines are up and running. Shakes, cones, and cups are yours for the taking.
While we're on the topic of McDonald's ice cream, there's certainly a lot to look forward to this time of year. The fast-food chain's holiday cups have made their debut, so your McFlurry is about to get the Christmas treatment. With a "Wonder in Every Sip" theme, these red cups will definitely put you in the spirit of things. Get ready to sing along with Mariah Carey — this is all you've wanted for Christmas.
To make matters even sweeter, McDonald's is bringing back holiday favorites. The Peppermint Mocha and the Peppermint Hot Chocolate have once again hit stores, so it's time to get in on the seasonal goodness. McDonald's senior director of McCafé Menu Innovation, Elina Veksler, said in a statement,
These festive McCafé beverages deliver enticing flavors that are holiday favorites. For many, nothing comes before coffee – even during the holidays, which is why our Peppermint Mocha is made with café-quality espresso made from 100 percent Arabica beans. Our customers are sure to enjoy our delicious Peppermint Mocha and our other seasonal favorite, Peppermint Hot Chocolate.
Added bonus? You don't need to leave the house to get your hands on one of these bad boys. If you're wrapped in blankets watching holiday movies, there's no reason to make your way out of your cocoon. McDonald's now has a McDelivery option on UberEATS, so wintertime laziness is totally in full effect. Told you technology was fabulous.
While you're planning your holiday trip back home, now you have the option to indulge in one of these peppermint treats — and you'll know which store to order from, all thanks to Ice Check. They weren't kidding when they said it was the most wonderful time of the year.
Enjoy those McCafés and happy holidays.
Check out the entire Gen Why series and other videos on Facebook and the Bustle app across Apple TV, Roku, and Amazon Fire TV.