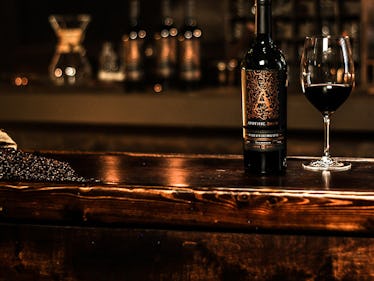 Coffee-Infused Red Wine Exists, So Cheers To The Best Combination Ever
After dragging myself out of bed on a Sunday morning, one of the single most impossible decisions is choosing between a hot cup of coffee or a smooth glass of wine. Coffee gives me the boost I truly need after a night out, but waking up with to a drink — which is commonly referred to as "hair of the dog" — often helps wash away that hangover. Making that heart-wrenching decision isn't really necessary anymore, because Apothic Brew wine is infused with cold brew coffee... and every single one of my upcoming Sunday brunches are about to get even more lit.
Apothic Brew (by Apothic Wine) is essentially created by infusing wine with cold brew coffee, according to an online press release. TBH, the mere sound of it already has this weekend's hangover magically fading away. I'm not entirely sure about you, but Apothic Wine is sold at pretty much every wine store in my neighborhood, so cheers to (hopefully) finding a bottle as soon as possible. Per the release, the cold brew-infused wine will be available in limited quantities nationwide on April 1, and that is most definitely not an April Fools joke.
According to the release, Apothic Brew wine was largely inspired by the popularity spike of cold brew coffee in the U.S. Between 2015 and 2017, cold brew demand increased by a whopping 430 percent, and I feel like that's largely attributed to the fact that my friends and I spend an inordinate amount of money on cold brew. I'm not sorry about it, though. Cold brew truly makes me (and my morning-hating friends) seem like a really pleasant group of people before noon.
If you haven't already done yourself a favor and given cold brew a try, I'm judging you a little (JK). But seriously, you should get on that. It might actually change your life forever. Cold brew, per the release, just uses more coffee grounds than traditional coffee. It goes through a longer steeping process, and ends up being smoother and less bitter than traditional hot coffee. Its chocolatey notes combine well with the blackberry flavors of red wine.
Deb Juergenson is a winemaker at Apothic, and she actually happens to be one of the geniuses behind Apothic Brew (praise!). Juergenson said that after she heard about cold brew, she fell head over heels in love with it. After realizing its similarities to red wine, the company started experimenting with blending the two — and the end result is history. In a statement, Juergenson said:
Last year during the long hours of harvest, I joined the cold brew craze myself. Quickly, I realized that many of the characteristics in cold brew coffee and red wine naturally complement each other. This led us to experiment with a few blends, eventually leading to the seamless creation of Apothic Brew, which brings together red fruit notes and subtle mocha essences of cold brew.
If you're a caffeine addict, though, don't get too excited about this invention. Despite the fact that it's infused with cold brew, Apothic Brew wine actually contains less caffeine than a cup of decaf coffee, according to Cosmopolitan. So, you might feel a little buzzed after drinking it, but it definitely won't be a caffeine buzz. Even though that might be a little bit disappointing, Apothic Brew has that coffee aroma that my brain wants and quite literally needs — so I'm still pretty thrilled about it.
This is fantastic news. I don't have to sacrifice a cup of coffee or a glass of wine at brunch anymore, because Apothic is coming to the rescue with Apothic Brew, and it's truly a 2018 miracle. Happy brunching!