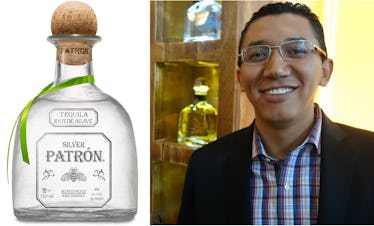 Weekly Tequila Tastings Are A Job Requirement For This Position, & Where Do I Apply?
In a perfect world, you leave college and start your dream job right away. But many recent grads — myself included — take a pit stop back home to live with their parents, or work a 9-to-5 job at a dreary office. However, for Antonio Rodriguez, one phone call from an alum at his university helped him land a dream job almost immediately after graduation. Rodriguez is currently the Director of Production at Hacienda Patrón, which means he supervises the entire tequila-making process from the agave fields to the bottling process.
I find that my success comes from my passion for the brand. I know Patrón from the inside, and its history is magical.
Yes, this job requires him to be around tequila all day; not too shabby, if you ask me. I recently sat down with Rodriguez at La Casona at Hacienda Patrón in Atotonilco El Alto, Jalisco, Mexico, where he tells me, "I find that my success comes from my passion for the brand. I know Patrón from the inside, and its history is magical." Rodriguez then further describes his self-proclaimed "dream job."
In fact, Rodriguez doesn't even think of his daily duties as "work," because he enjoys each and every one of his responsibilities, from finalizing agave supply numbers to tequila tastings to overseeing the bottling of the tequila. In speaking with Rodriguez, it's clear how much he values every aspect of his job — especially the fact that it allows him to work with people he refers to as a "second family."
The road to Rodriguez's dream job started in 2006. He was preparing to graduate from the University of Guadalajara with a bachelor's degree in chemical engineering, and he had his sights set on entering the paper-making business. Rodriguez's career path quickly shifted when Francisco Alcaraz, Patrón's master distiller, reached out to his alma mater looking for any soon-to-be graduates with a chemical engineering degree.
Rodriguez fit the bill, with his stellar grades and a passion for the subject. After interviewing, he got a call from Patrón while buying his shoes for graduation. The company invited him to start work at Hacienda Patrón in Jalisco, Mexico.
As a chemical engineer, Rodriguez puts his knowledge of chemistry, biology, and physics to use as he crunches the numbers for the agave supply, understands the science of the processes of baking and fermenting the agave, and, of course, ensures the quality of the tequila with regular tastings.
Rodriguez has worked his way up to his current position as the Director of Production. He describes the position as that of two-fold of responsibilities: the strategy aspect and the human side of the production process.
When it comes to the strategy side, Rodriguez is in charge of making sure the agave supply keeps up with what Patrón needs to produce the mass product, like the 3.5 million cases of Patrón tequila that were sold in 2017. The agave plants grown in the highlands of Jalisco take six to seven years to mature to harvest, so Rodriguez explains he has to "map out the numbers of the agave supply six years ahead of production."
If your tequila knowledge begins and ends with a wedge of lime and a sprinkle of salt, then Rodriguez could give you a master class in the process. The Patrón process begins with harvesting the agave, and then the piñas harvested from the agave plants are baked for 79 hours. Rodriguez keeps up with the production as the baked agaves are sent through both the tahona and roller mill processes, which extract agave juices and fibers and juices, respectively.
Patrón's employees are masters of the tequila-making process. It's like an art, and my job is to make sure that the artists are comfortable.
From there, Rodriguez overlooks the "small-batch production" of the tequila that, he says, is handled by "artists who have mastered the process." It's this interaction with the people of Patrón that solidifies his view of his job as more living out his passion than work.
Rodriguez satisfies the second part of his duties as lead production manager when he takes care of the employees by making sure they are provided excellent training and a comfortable working environment. Hacienda Patrón first opened in 2002 with just 32 employees, and it has grown to over 1,600 employees in 2018. Rodriguez calls the history of Patrón a "magical" one, and he has enjoyed being a part of the "magic" since his arrival in 2006.
Rodriguez shares, "Patrón's employees are masters of the tequila-making process. It's like an art, and my job is to make sure that the artists are comfortable." He oversees the many employees involved in the production process, and he's built close relationships with them, which is one of his favorite parts about the job. (Patrón continues to employ so many people because they've chosen to keep the tradition of corking, labeling, wrapping, and boxing the bottles of tequila by hand.)
One of his fondest memories is from a year ago, in 2017, when the announcement of Rodriguez's position was made in front of his colleagues. Rodriguez smiles as he recalls to me how the scene was filled with "everyone applauding my promotion."
When it comes to the finished tequila, Rodriguez enjoys one of the most enviable parts of the job, which includes performing between three and five tequila tastings a week — all in the name of innovation, of course.
Highlighting one of the biggest differences between the brand's tequilas, he says, "Patrón Silver is the base for everything," noting that "the aromas of Patrón Silver are that of the distillery."
Of course, Rodriguez is a fount of knowledge about Patrón tequila — and an expert taste-tester — but his passion for the brand that most "outsiders see as only a luxury brand" is what drives him to keep learning about the production process. And his connection to the people he works with is what pushes him to always make decisions with their wellbeing in mind.
After speaking with Rodriguez, I can tell that he is undoubtedly living the dream: getting paid to drink tequila. Clearly his duties are more complex than that, but any job that requires regular tequila tastings makes for a very pleasant day at the office, if you ask me.