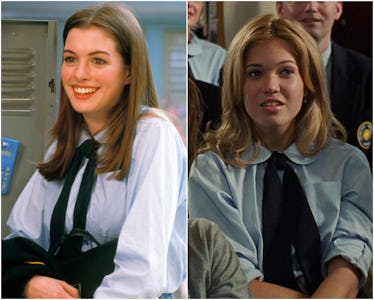 Anne Hathaway & Mandy Moore Just Made Plans For A 'Princess Diaries' Reunion
Buena Vista Pictures
What movie summarizes millennials' childhoods better than The Princess Diaries? Although nothing beats the witty, more sardonic book series by Meg Cabot, The Princess Diaries was what first blessed us with the ageless Anne Hathaway and a very young Mandy Moore before she became the Pearson matriarch on This Is Us. To this day, I don't think any clapback at a movie villain is more satisfying than Mia inspiring chants of "Lana got coned." The two women are friendly today, and Anne Hathaway and Mandy Moore's comments about a Princess Diaries reunion will warm your heart.
Nowadays, it's hard to believe that Moore is the same gal as the teen pop star making her feature film debut in 2001's The Princess Diaries. Appearing as the conniving, popular cheerleader Lana, Moore also made a now-rare appearance as a blonde, which distances the character even more from the fiercely loving brunette Rebecca on This Is Us. Meanwhile, Hathaway must have found the elixir of youth, because she literally hasn't seemed to age since her breakout role in The Princess Diaries. Regardless, it is sweet to know what great things both actresses have achieved since filming this movie. Clearly, neither of them needs a Josh Bryant in their lives.
The movie recently celebrated its 17th anniversary, and in honor of the milestone, Moore shared a photo of herself and Hathaway at the film's red carpet premiere. Like any red carpet pic from the early 2000s, the women's fashion is questionable, with Hathaway, then 18, in a strapless purple gown and 17-year-old Moore in a denim suit. Moore is no stranger to poking fun at clothing choices early in her career, and alongside the Instagram photo, she wrote:
I guess this film came out just over 17 years ago?? 🙀 @annehathaway was already a movie star and I showed up to my first premiere in a casual denim suit. Hey, it was 2001!
Hathaway was quick to comment on the photo, joking that her face in the photo captured her trying to contain her nerves around "a terrifically famous pop star." Her message took a sweeter, nostalgic note when Hathaway wrote, "So happy for all that you have going on! Let's get together and throw ice cream at each other soon."
We don't know how recently Hathaway and Moore hung out before this exchange, but Moore was totally up for revisiting the bucket hats and cheerleader uniforms of their characters, replying, "Count me in! It'd be an honor to be coned by you again!"
Excuse me while I cry as "Miracles Happen" plays in the background.
Moore didn't appear in the movie's 2004 sequel, and while there are tentative plans for a Princess Diaries 3 honoring late director Garry Marshall, she has spoken before about reviving her mean girl character someday. In 2017, she told Elle:
Maybe I would make some quick cameo [in a third film]. I would like to see this woman evolve. If I'm going to be involved, I would be down for a cameo — maybe she could make amends with Mia and apologize for being a bully when she was younger.
This Is Us isn't shy about recruiting A-list stars as guests, so if Rebecca's ever in need of a friend in a widows' support group, maybe Hathaway could surprise us with a special TV appearance. If this miraculously happens, I might need a subtle reference to Moore's Princess Diaries musical number "Stupid Cupid" in that hypothetical episode. This Is Us writers, consider this a total pitch. Until then, here's hoping that Moore and Hathaway document their reunion on social media ASAP.