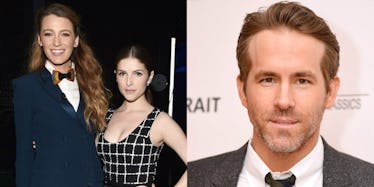 Anna Kendrick Says Her Romance With Blake Lively Is Good For Ryan Reynolds For This Reason
Alberto E. Rodriguez/Michael Loccisano/Getty Images
Blake Lively and Anna Kendrick are really milking their fauxmance for all its worth, and I'm loving every second of it. The two stars of A Simple Favor became fast friends while filming the movie, and it resulted in a showmance I never want to see die. Kendrick and Lively kept on gushing about each other at the New York premiere of A Simple Favor on Monday, Sept. 10, and Anna Kendrick's comments about her relationship with Blake Lively and Ryan Reynolds were peak Anna Kendrick.
Kendrick already dished on what it was like to kiss Lively (their characters kiss in the movie), saying that she and Lively were hilariously over-prepared to make out. "All I'm ever thinking about in kissing scenes is, who has gum? Who has a mint?" she told PrideSource. "And I think Blake is probably the same because I've never experienced a guy, like, searching for a mint and searching for gum. So, we were the mintiest, freshest two people to have ever kissed in the history of America… Call Guinness."
Lively, of course, is married to Ryan Reynolds, so where does he fall in this friendship? Kendrick told Entertainment Tonight at the A Simple Favor New York premiere that she hopes it keeps Reynolds on his toes. They might just run off into the sunset together if he's not careful!! (Plz, God, let this happen.) "It's true, it's true," Kendrick laughed when asked if Reynolds now has competition for his wife's love.
"You know what it is?" she continued, "Ryan's an attractive, famous, successful man and you need to keep them on their toes. He's got a great lady and I just need to let him know that Blake's got options, you know what I'm saying!" She took the joke even further, saying that even though they're done filming and won't see each other in person that often anymore, she'll always be there... watching. "I'll just be sneaky," Kendrick joked. "I'll just slide into her DMs."
Lively told Entertainment Tonight that she's been dying to work with Kendrick for years. "I've been a fan of hers for a long time, so there's immediate chemistry," she said. "She just didn't know about it, so it's just been a real slow burn until I finally convinced her to be in a movie with [me]."
Kendrick said that while she didn't know Lively personally before A Simple Favor, she had known Reynolds for years and was sure that Lively had to be wonderful if she was married to Reynolds. "I worked with Ryan on a film," she said, "and I think when you meet their spouse you're like, 'Well they're not gonna be terrible because Ryan's the greatest guy.' So I kind of had some confidence going in based on that." And now they're closer than she and Reynolds were before.
We stan this friendship.
When you see A Simple Favor in theaters, know there was a lot of character work that went into Kendrick and Lively's kiss.
Kendrick told PrideSource, "I remember Blake and I both feeling like neither of us wanted to be the aggressor in the scene." She continued,
Blake was worried that she would come off as taking advantage of me in that scene because I'm in a very vulnerable place, and I was worried that I would come off like I wanted so much more, and that Blake is just kind of playing and Emily is very comfortable with the fluid aspects of her sexuality, whereas Stephanie has more of an emotional component to it. So, I was worried it would be, like, really sad. We definitely struggled to find that perfect balance of, there's just this moment and they both get caught up in it and it's a little uncomfortable. Yeah, it was a fun day.
I'm gonna do myself a simple favor and make sure my a** is in the theaters on Sept. 14.