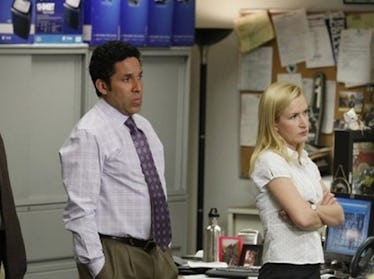 'The Office' Actors Recreated An Iconic Scene That Will Make You Scream "SAVE BANDIT"
NBC
There's nothing like some ridiculous physical comedy to brighten your day, and that kind of goofiness doesn't get any better than the opening scene of The Office Season 5 episode "Stress Relief." Convinced that no one paid attention to his fire safety presentation, Dwight stages a fire inside the office and blocks the exits, causing everyone to believe they're doomed. It's hard to pick a standout moment of the scene, but I have my favorite, and it involves saving Bandit. Angela and Oscar from The Office recreated this iconic scene, and you're going to want to toss your own stuffed animal into the air after seeing their skit.
In case you're wondering, Angela Kinsey and Oscar Nuñez still seem totally in synch with each other and their old characters, and that's not just because they share names with their fictional counterparts. Kinsey and Nuñez's friendship actually traces back to two decades ago when they met at Los Angeles' Groundlings Theatre, and it's clear that their bond totally goes beyond the typical co-star relationship. They're still so close that Kinsey invited Nuñez to guest star on the YouTube series she runs with her husband, Joshua Snyder, called "Baking With Josh & Ange."
The group made the Mexican dessert flan together, inspired by Nuñez's grandmother, but the real highlight of the video was the questions that Kinsey and Nuñez answered from fans throughout the lengthy baking process.
In between Nuñez Voguing for the camera and Snyder deplating his flan, Kinsey and Nuñez answer a fan's request to recreate their favorite scene from The Office. Their first choice is to reenact Kinsey and Nuñez's bit of the fire drill scene, in which Oscar climbs up into the ceiling and Angela tries to convince him to take her cat Bandit with him. Her attempts to toss Bandit up to him fail miserably, with Bandit falling through the ceiling tile.
In case your memory is a little foggy (although, how could you forget this?), here is the full, original scene.
The pair's revival of the moment was spot on, but it did have a unique twist. Although Kinsey approached Nuñez with an actual cat in her arms, the Bandit that was tossed into the air was an oversized stuffed animal. Save Bandit, indeed!
All the moment needed to be a proper Dunder Mifflin accounting reunion was a visit from Brian Baumgartner, aka Kevin, and I definitely have my fingers crossed for the day we see the trio together again. Kinsey has previously spoken about the special bond the group had as a result of their isolated area on The Office set, telling Entertainment Weekly in 2014:
It's getting harder now that we're not on set every day, but I see those guys very regularly. I have my core group, and we still get together and hang out. Actually, Oscar started this dinner between the accountants. It's such a boys lovefest where I'm the token tomboy, because they always pick steakhouses. I feel like part of the man club or something! We've done these dinner a few times; we don't bring plus ones, it's just the three of us.
Keep calm, but it seems like you can also count her in for that rumored Office revival.
Now that I know Kinsey and Nuñez get together and bake seemingly on the regular, I may have to start binge-watching The Office again and daydream about a spinoff where Angela and Oscar run a bakery together. "Save Bandit" cookies would be their specialty, of course.