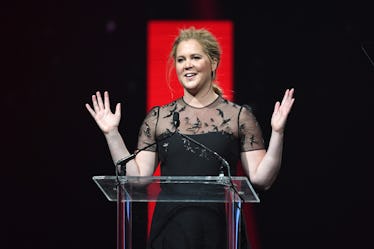 Amy Schumer Called Her Husband's Wedding Proposal "Worthless'" On 'SNL' & I'm LOLing
Ethan Miller/Getty Images Entertainment/Getty Images
Amy Schumer hosted Saturday Night Live on May 12, and of course, her appearance was as hilarious as you'd expect it to be. But the best part of the night — hands down — was Amy Schumer's SNL monologue about her marriage proposal. She called her big moment "worthless" and "so dumb," and her comments literally have me LOLing. (But future bae, I would never say this.)
The I Feel Pretty actress, who married chef Chris Fischer in a surprise ceremony back in February, kicked off her second Saturday Night Live hosting gig by sharing the entire inside scoop about the day Fischer asked her to marry him.
"The way that my now husband proposed was so worthless. It was such a dumb proposal. It was morning, I was still asleep, he threw the box at me and said, "I got you this," she told the audience.
"But that's a realistic proposal," Schumer continued, comparing it to movie and TV proposals when women are "shocked" to find out their partner liked them. (I get it, but I think I speak for many of us when I say that throwing a ring at me as a proposal will never work in anyone's favor.)
Check out what she said for yourself, and prepare to laugh until your belly aches:
She also used the evening to joke about how she and her friends are all getting married in their mid- to late 30s when they "probably can't have kids" anymore. She joked, "Oh now, now you're ready? Now that I probably can't have kids? You're not in love, you're tired, you're tired. And I know all your passwords, that's what's happening."
On top of being a newlywed who had a "worthless" proposal, Schumer also lamented over being a bridesmaid six different times.
"I've been a bridesmaid in six Long Island weddings," she said. "And there's something a little bit sad about being a bridesmaid in your late 30s... you're just standing in that line of bridesmaids hoping you don't have the biggest arm."
Wow. I've never heard a more relatable comment in my life.
Schumer's jokes about her husband and post-wedding life are nothing new, though. Back in April, the actress was hospitalized for a kidney infection, and the way she thanked her beau for being by her side was totally sarcastic.
"Here's what I've been up to this week," she began. Schumer continued, "I was hospitalized for 5 days with a horrible kidney infection. I want to give a big thank you to the doctors, the bad ass nurses also my husband who's name is, i want to say, Chris? and my sisters Kimby and mol who have been by my side the whole time."
Leave it to her to turn a serious matter into a joke. Can't be mad at that.
Nonetheless, the two are obviously so meant to be. Schumer opened up to Nikki Glaser about her life after marriage, and her comments are too cute to handle. She explained:
Somebody went to sit next to [Chris] and he's like, 'My wife is sitting here,' and then I got back and he was excited to tell me that he said that. I just have been really overusing it to a degree that's insane. Like, when it's completely uncalled for.
Aww!
All in all, it makes me so happy to see that they can laugh and roast each other like best friends. That's the key to these things anyways, if you ask me. Now, all I need to hear is a fun clapback from her hubby and I'll be all set.