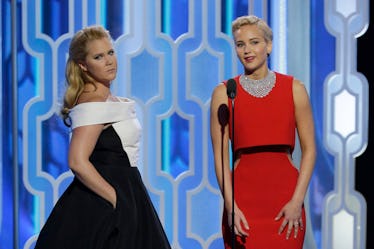 Amy Schumer Sent Jennifer Lawrence A Wickedly Sweet Breakup Gift
Handout/Getty Images Entertainment/Getty Images
Breakups are never ever fun... trust me. I know. But splitting from your boo is a million times easier when you have a best friend by your side. And even though some of your friends might give you a little taste of tough love, it's still coming from a place close to their heart, which is really all that matters. Speaking of tough love, if you haven't already heard Amy Schumer's response to Jennifer Lawrence and Darren Aronofsky's breakup, it seriously redefines #bestfriendgoals, in the absolute funniest way possible.
On Thursday, March 1, J. Law made a pitstop at Bravo's Watch What Happens Live With Andy Cohen, per E! News, and her usual hilariously relatable anecdotes did not disappoint. Upon delving into her tragic breakup with popular filmmaker Aronofsky, Lawrence said that she immediately went to Schumer to — you know— have some good, old-fashioned girl talk. Because that's what we all need, especially if you're BFFs with Amy, right?
The day following their heart-to-heart — that probably every girl who will read this had a million times in their lives — per E!, Lawrence received a bouquet of flowers in the mail from Schumer, which was totally unexpected. While I'm sure the flowers were totally beautiful and brought a smile to Lawrence's face, the note to go with them was undoubtedly the best part of it all. Check out the video below to see what Amy sent her:
Describing Schumer's gift, Lawrence said to Cohen, "I bring the bouquet in and there was a note that said, 'I'm so sorry to hear that you're going to die alone. Love, Amy.'"
OK, in all honesty, I'd like to know where Amy was during literally all of my high school years, because I really could have used a snarky-but-loving BFF like her. Also, quite frankly, I'm a little bit jealous that I hadn't thought of sending any of my friends a hilarious-but-thoughtful cheering-up bouquet like this first, but I guess I'll survive. And even though not everyone might be thrilled to get a darkly silly note during a hard time in their life, J. Law has an amazing sense of humor, as we know, and Schumer is seriously just the coolest friend anyone could ask for. If you somehow couldn't tell, I am beyond obsessed with both of them and their tough-lovin' gal pal-ness.
Despite their breakup, Lawrence continued to discuss her relationship with Aronofsky on the show. Per E!, Lawrence said that she would constantly make secret attempts to get Aronofsky to watch The Real Housewives... and unfortunately, it never worked. J. Law would first gauge his attention by talking about the situations on the show — as if they were happening her friends. Then, Lawrence would actually turn the show on, and she'd admit that those were the "friends" she was referring to all along. Honestly, I feel this so hard, and if I'm being real, I think Lawrence could totally get a man that'll watch bad TV with her... that's honestly what boyfriends are for. Definitely make it a point to watch the full interview if you haven't already, because a bunch of the Real Housewives actually join Lawrence for a real-life "dinner party." It's really great.
Unfortunately, I don't have any celeb besties like J. Law or Amy, but I am lucky to have a bunch of pals that make me laugh on the regular. And that's all anyone really needs, especially when the going gets tough. Having a good sense of humor is also totally key, though, because getting a bouquet that apologizes for "dying alone" might be difficult for the weak-hearted... LOL. But clearly, Lawrence has stamina, because she's endured a relationship without any bad TV.. so, I'm pretty sure she can handle anything at this point.