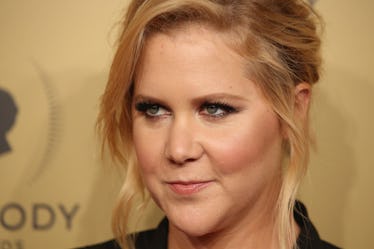 Amy Schumer's Net Worth Is Super High & It Makes So Much Sense
Jemal Countess/Getty Images Entertainment/Getty Images
There's no question that Amy Schumer is one of the most recognizable names (and faces) in Hollywood. She's a top-notch comedienne with a dedicated audience, a famous cousin in politics (shout out to Chuck Schumer), and a squad that includes the likes of Jennifer Lawrence and America Ferrera. Did you also know that Schumer has a load of dough? Yup, Amy Schumer's net worth is way up there. But, really, no one should be surprised by that fact.
So, what exactly is Schumer's net worth? Estimates vary, but Forbes reports that it's around $37.5 million. That figure is quite impressive, especially when you consider that Schumer's career only started to gain traction just about a decade ago. She got her big break in 2007 when she was cast in the hit reality series Last Comic Standing and placed fourth in the competition.
It was pretty much smooth sailing from there. In 2012, Comedy Central aired Schumer's very first comedy special, entitled Mostly Sex Stuff. And that just propelled her to a whole new level of fame. The network later gave her a weekly special, which fans may know by the name of Inside Amy Schumer.
What a rapid rise to fame that was! And she was only just getting started. Obviously, a lot can happen in just a few short years and Schumer's proving every day that honing your craft and sticking to your guns is well worth it.
The 36-year-old, who recently married award-winning chef Chris Fischer, has seen her fair share of career ups and down. Mostly ups, though. It seems like every few months or so she's got a new movie coming out — like I Feel Pretty, which is due out in theaters late April 2018.
It was Trainwreck, though, which was released back in 2015, that really put her and her multi-million dollar fortune on the map. The film earned a whopping $140.8 million at the box office, solidifying Schumer as an actress and comedienne to be reckoned with.
There's more to Schumer than just her comedy and her films, though. She's also an acclaimed author. Her 2016 book, an essay collection called The Girl with the Lower Back Tattoo, earned her an $8 million advance, which was reported to be the third highest book advance of all time.
Not only that, but Schumer was the very first woman to make FORBES' list of Top Paid Comedians. She was even able to make it to the top ten, which is no easy feat. I mean, think of how many funny, well-known comedians are out there. And yet, Schumer makes top 10? Crazy.
Clearly, Schumer is as historic as she is hilarious.
In 2017, her Netflix stand-up The Leather Special made up a significant amount of her earnings for the year. Nevermind the fact that she had a handful of lucrative endorsement deals going her way. Think Old Navy and Bud Light. Yep, you can bet her payday from those was substantial.
All in all, Schumer's doing way more than making a name and a fortune for herself. She's doing the good work of making people laugh, which die-hard comedy fans can appreciate. If anything, you can rest assured that even if you're not exactly seeing or hearing from Schumer, she's most definitely collecting plenty of cash.
I don't know about you, but it seems to me that Amy Schumer has done more than play her cards right. She's been smart and calculating, ensuring every step of the way that she's getting what she deserves. She's building an empire right before everyone's eyes... and it's kind of fascinating.