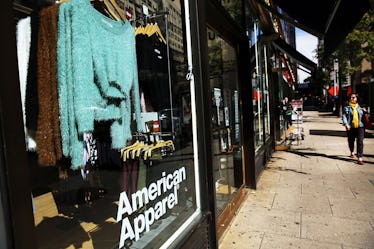 American Apparel Is Back In Business & The Clothes Look Totally Different
Spencer Platt/Getty Images News/Getty Images
You may have heard the rumors that American Apparel is back in business. When I was in college, everyone wore American Apparel — it was basically the high-school equivalent of wearing Hollister or Abercrombie & Fitch. They did have a good selection of T-shirts and a pair of wildly popular jeggings (the Disco Pant) that made your a** look amazing, but I never got into it — mostly, because head-to-toe spandex and neon colorways weren't really my thing. Needless to say, I wasn't too bummed when the LA-based manufacturer stopped selling clothes. However, I couldn't say the same for my old college friends or American Apparel's cult following.
I frequently drive past an old storefront on Melrose Avenue in West Hollywood that used to be an American-Apparel store. It's been closed for over a year now and it still has a "for lease" sign in the window. Around the time the store shut its doors, the retailer had been facing some hard times, so nobody was suprised when it actually happened. First, the founder was caught up in a major sexual-harassment scandal (pre-#MeToo movement), the company went bankrupt twice, then they were bought out for $88 million dollars, and just as things were starting to look up, they closed all of their stores.
As of last August, the retailer's website no longer listed products, although it did boast a note on the homepage that said the site would be up and running that summer. That summer came and went with no word on when the retailer would be back up and running. So American-Apparel fans just waited...and waited.
I personally haven't been counting down the days for their return, but if you have, the wait is over. American Apparel is back with their revamped e-commerce site, so you can finally start shopping for your favorite wardrobe staples in multiple colors. The brand still has that same look and feel, as well as some signature pieces that my college friends flocked to their stores for. The website is still stocked with bodysuits, raglan shirts, crop tops, hoodies, and fanny packs in a variety of colors, but there are some new additions that even I am pretty excited about.
I'm obsessed with this Mesh Knit Tennis Shirt ($46; americanapparel.com) and Gabardine Tennis Skirt ($48; americanapparel.com) set, and I don't even play tennis. I might just pick up this little ensemble and wear it all spring with a pair of sneakers — plus it actually looks super expensive.
Who knew you could one day buy a little black body-con dress at American Apparel? The Ribbed Sofia Dress ($36; americanapparel.com) is the easiest going-out dress and pairs perfectly with strappy heels. It also comes in olive green, which could be the perfect summer weekend dress if you pair it with sneakers and a denim jacket.
Where was this little set when I was shopping for Coachella? The Denim Smocked Crop Top ($32; americanapparel.com) and Denim Smocked Short ($34; americanapparel.com) is the cutest little two piece you'll want to live in this summer.
If a romper is more your speed, you need to get your hands on this Denim Deep V Romper ($48; americanapparel.com). I can see it now: me sightseeing in some fabulous beach town wering my denim romper, some nude sandals and tons of colorful costume jewelry around my neck and wrists.
I'm not in college anymore, but for the first time in a long time, I'm considering shopping at American Apparel. I'm still not a fan of spandex or neon colors, but I need that tennis outfit. I'll probably get that little black dress too, since you can never have too many of those.