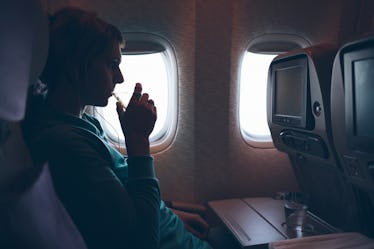 This Airline Is Offering Free Beer & Wine On Board, So Book Your Flight Now
Flying can be hella stressful. Between potential delays, long AF layovers, and way too much turbulence for my liking, even a short trip via airplane always makes me realize I have way more grey hairs than I thought. But one popular airline has just graced us with a wild new deal as they further expanded their Northeastern shuttle services. With an increase in direct flights (and in amenities), flyers will be able to experience a way better flight all-around. Why? Because starting in April, American Airlines' free beer and wine special is going to literally rock our worlds and our travel experiences.
On Jan. 18, American Airlines announced in a press release that they will have a new shuttle service starting on April 4, which flies commuters, frequent flyers, and one-time passengers between Chicago O'Hare and New York LaGuardia airports every hour. That adds up to 15 flights between the two cities, per weekday. So that's pretty rad.
However, the best part is that each class will receive complimentary beer and wine in the Main Cabin. That's right: Even in economy class, all of us will receive a well-deserved glass of beer or wine on the house. Un. Freaking. Real. We millennials are finally getting the good treatment without paying $20 for a glass of pinot or $15 for a Bud Light to soothe our shattered nerves. We're truly getting what our hearts desire while en flight, and it's kind of amazing.
In addition to free dranks, American Airlines' new shuttle will also be providing extended check-in times. For flyers, that means less time waiting in the airport... so that's always a plus. At O'Hare, flyers will be able to check in up to 25 minutes before their departure; that is, of course, if they aren't checking a bag. But either way, flyers won't have to worry about missing their flights quite as much, even if they are a tad later to the airport than usual. This really takes a giant load off our shoulders.
Alison Taylor, American Airlines' senior vice president of Global Sales and Distribution, explains their new convenient (and undeniably fantastic) flight agenda:
When you fly frequently for work, anything that can make the regular commute more comfortable is important. That's why we're pleased to offer valuable time-saving opportunities with our Shuttle, including a convenient and consistent schedule and extended check-in times for you and your bag.
We are seriously thanking all of the airplane gods at this moment in time, because flying just got way more fun, and significantly less stressful. American Airlines has already been operating this beyond incredible Shuttle service between New York City and Boston, New York City and D.C., and D.C. and Boston — but they're just now implementing this long-awaited shuttle service between Chicago and New York City. So if you're coming in from Chicago to the Big Apple (or vice versa), expect a free drink, as well as an enticingly late check-in. There's no better way to fly, and we're already looking into booking our next trip to Chi-town (obvi through American Airlines).
If you aren't looking to go anywhere between Chicago, Boston, New York City, or D.C., but you're still trying to make it out for a January vacation, definitely check out Frontier's latest flight deals. Offering Discount Den subscribers several $29 flights, and non-subscribers a variety of flights for around $49, there really aren't any better flight deals right now. Unfortunately, they aren't offering free drinks on their flights. Still, it's a less expensive way for us Gen-Y folk to get some alone time to ourselves.
Check out the entire Gen Why series and other videos on Facebook and the Bustle app across Apple TV, Roku, and Amazon Fire TV.