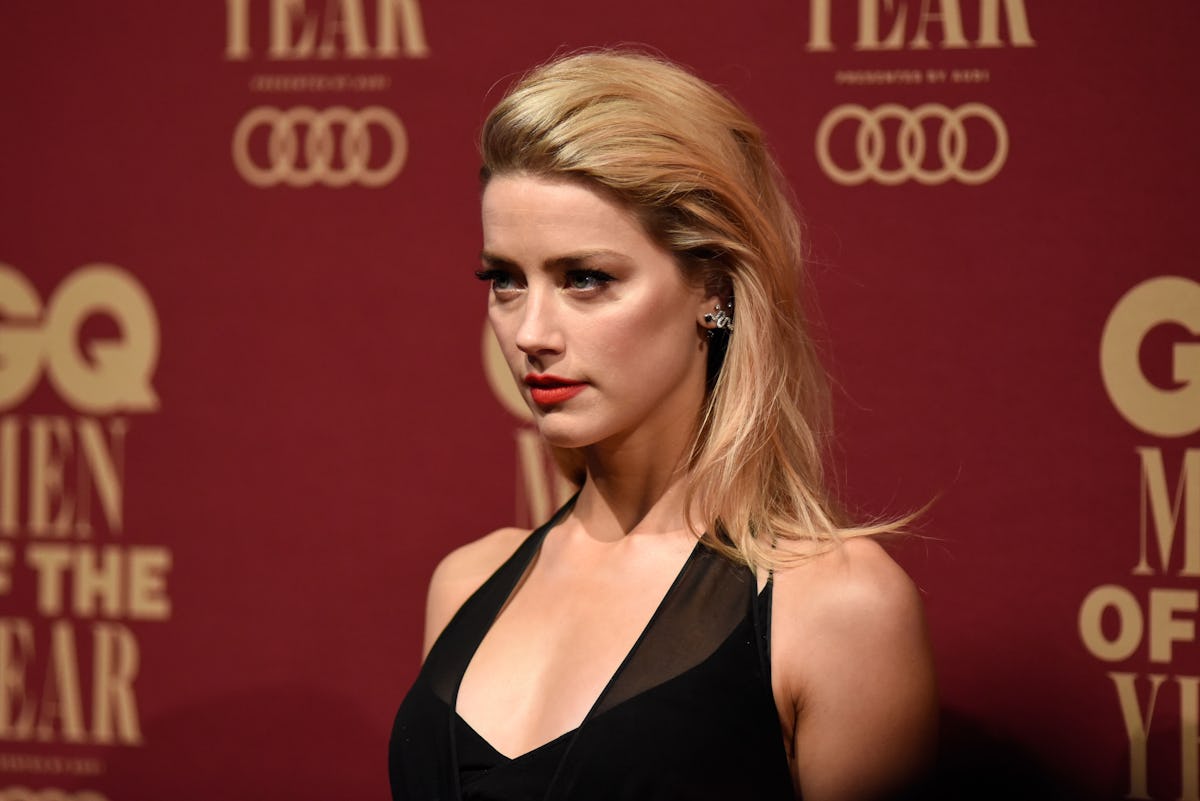 Amber Heard Responds To 'Fantastic Beasts' Not Recasting Johnny Depp On Instagram
Christopher Pearce/Getty Images Entertainment/Getty Images
There has been a lot of talk about the controversial decision to not replace Johnny Depp's role in the Fantastic Beasts films with another actor. Now the actor's ex-wife appears to weighing on the subject via social media. Amber Heard's response to Fantastic Beasts not recasting Johnny Depp is setting the record straight.
Heard filed for divorce in May of last year and additionally filed for a restraining order against Depp, citing emotional, verbal, and physical abuse.
Despite the accusations against the actor, it was revealed Depp would be taking on the role as Grindelwald in the Fantastic Beasts franchise, and backlash ensued regarding the casting decision. Depp will be starring in the upcoming Fantastic Beasts: The Crimes of Grindelwald and had a brief appearance in the final moments of Fantastic Beasts and Where to Find Them that set up his major villainous part to come.
Following Thursday statements from J.K. Rowling and Warner Bros. that defended the choice of to keep Johnny involved, Amber Heard broke her silence. Warner Bros. had said,
We are of course aware of reports that surfaced around the end of Johnny Depp's marriage, and take seriously the complexity of the issues involved. This matter has been jointly addressed by both parties, in a statement in which they said 'there was never any intent of physical or emotional harm.' Based on the circumstances and the information available to us, we, along with the filmmakers, continue to support the decision to proceed with Johnny Depp in the role of Grindelwald in this and future films.
Amber Heard took to Instagram in what seems to be a response, where she pointed out that quoting certain lines of her and Depp's full joint divorce statement out of context is "just not right." "For the record, this was our FULL joint statement. To pick and choose certain lines and quote them out of context, is just not right. Women, continue to stand up and stay strong. Love, Amber," the actress commented.
Amber's post also came after Harry Potter author J.K. Rowling commented that she was "genuinely happy" about the actor's continued inclusion in the franchise. In an excerpt from a full online statement regarding the casting situation, Rowling wrote,
Harry Potter fans had legitimate questions and concerns about our choice to continue with Johnny Depp in the role. As David Yates, long-time Potter director, has already said, we naturally considered the possibility of recasting. I understand why some have been confused and angry about why that didn't happen.
She went on,
Based on our understanding of the circumstances, the filmmakers and I are not only comfortable sticking with our original casting, but genuinely happy to have Johnny playing a major character in the movies.
Director David Yates vouched for Depp's character in a Nov. 28 interview with Entertainment Weekly and addressed Amber Heard's domestic violence accusations. "Honestly, there's an issue at the moment where there's a lot of people being accused of things, they're being accused by multiple victims, and it's compelling and frightening," he said."With Johnny, it seems to me there was one person who took a pop at him and claimed something. I can only tell you about the man I see every day: He's full of decency and kindness, and that's all I see."
Depp's career appears to be in tact following the allegations. He starred in last month's Murder on the Orient Express and has a handful of upcoming projects in the works, including The Invisible Man and LAbrynth. But that doesn't mean the backlash, reactions, and outspoken voices regarding the studios and people who rally around him will remain silent.