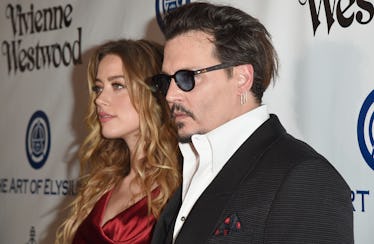 The Final Straw For Amber Heard & Johnny Depp's Marriage Was Reportedly A Pile Of Poop
Jason Merritt/Getty Images Entertainment/Getty Images
Most of us know that it's usually not just one thing that ends a relationship. It's often a multitude of things that keep building up and building up until, ultimately, one final straw brings the entire relationship crumbling down. While many of the reports surrounding the divorce of Johnny Depp and Amber Heard were about heartbreaking allegations of abuse, a new report claims Amber Heard and Johnny Depp's tipping point before divorce actually had to do with... poop.
"Given the brevity of this marriage and the most recent and tragic loss of his mother, Johnny will not respond to any of the salacious false stories, gossip, misinformation and lies about his personal life," Depp's rep told Us Weekly of the abuse allegations back in 2016, after Heard accused him of domestic abuse. "Hopefully the dissolution of this short marriage will be resolved quickly." But on Aug. 15, 2018, the UK's Mirror reported that Depp accused Heard of dumping poop on their bed because he was two hours late to her 30th birthday party. Heard reportedly denied the claim that she dumped poop on the bed and blamed it on her dog, a Yorkshire Terrier named Boo, who, according to the Mirror, she claims has bowel problems.
After the poop argument, Depp reportedly left their shared LA penthouse and dirty sheets were found by a housekeeper the next day. After seeing the poop, the housekeeper reportedly took Depp's side, claiming it was far too large to have come from a small animal like Boo.
A rep for Depp denied requests from the Mirror to comment on the poop rumors, and when Elite Daily reached out to reps for both Heard and Depp for further comment on the claims, we did not hear back from either by the time of publication.
A source close to Depp claimed to the Mirror that there was reportedly "strong, photographic evidence that connected Amber to the feces." Apparently, according to the source, it was left there as a very bizarre "prank." But a rep for Heard told the Mirror, "There was never a joke, it wasn't something done to be disrespectful," citing Boo's bowel issues as the root of the issue. "It was an innocent thing, it's what pets will do. We don't have anything else to say. Ms. Heard is moving on and we do not want to engage in this nonsense."
A second fight about the reported poop incident took place a month later — according to the source who spoke to the Mirror — and is reportedly what caused Depp to throw Heard's cell phone at her, allegedly hitting in her the face. (Elite Daily reached out to reps of both Depp and Heard for comment on the phone allegations but did not hear back in time for publication.) Page Six reports that the cops who showed up following the reported fight claimed that they saw no marks on her face. "On May 21, 2016, officers responded to a domestic incident radio call…" LAPD Sgt. Marlon Marrache told People of the mobile phone incident. "The person reporting the crime [Heard] did not insist on a report and no report was warranted. There was no evidence of any crime. A crime did not occur so the officers left the scene and left a business card."
When Heard filed for a restraining order against Depp in May 2016, she alleged that Depp made "paranoid and irrational accusations about some delusional idea," according to the Mirror. The Mirror claims she might have been referring to their recurring fights about the reported poop in the bed, but Heard and her team have not yet responded to clarify the reported comment.
"He began obsessing about something untrue and his demeanor changed dramatically. He became angry," she claimed in the court document, according to the Mirror.
Six months before settling their divorce in January, 2017, People confirms Heard withdrew her request for a restraining order. They also report she was given custody of their two dogs, Pistol and Boo (the one with bowel issues).
Of course, we can never know for sure what goes on behind the closed doors of any relationship, but I will say that I'm sincerely happy the two were able to find their way out of what seemed like an extremely toxic relationship.
Check out the entire Gen Why series and other videos on Facebook and the Bustle app across Apple TV, Roku, and Amazon Fire TV.
Check out the "Best of Elite Daily" stream in the Bustle App for more stories just like this!