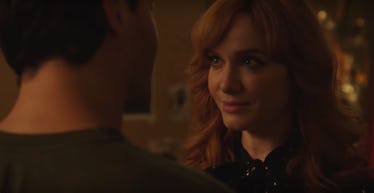 Amazon's 'The Romanoffs' Trailer Is Jam-Packed With All Your Favorite Actors
Amazon Studios
A few years ago, we could count on Garry Marshall holiday-themed movies to provide epic Hollywood crossovers and mind-blowing character connections, but in 2018, we have shows like Amazon's upcoming anthology series The Romanoffs. Debuting on the streaming platform in October, the eight-episode season focuses on stories of people who all think they're related to the Russian royal family, but speaking to the extent of the show's star quality, the cast is packed with recognizable faces. Amazon's The Romanoffs trailer is full of appearances from some of your favorite actors, and it looks like everyone will have a chance to showcase their skills.
Unlike other streaming shows, The Romanoffs will release new additions to its anthology once a week beginning on Oct. 12, 2018. Led by Mad Men creator Matthew Weiner, the series will introduce a new cast, location, and storyline in each episode, and characters' beliefs that they're descendents of the murdered Romanovs will be the only obvious connection among the stories. While Weiner is working with some of his Mad Men team behind the cameras, the teaser reveals that at least two onscreen Mad Men alums are also bringing a story in life in The Romanoffs.
John Slattery and Christina Hendricks appear as token representatives of Mad Men's Sterling Cooper ad agency in The Romanoffs trailer, which boasts episodes taking place on three continents and in seven different countries. Other scenes, mostly revolving around character's familial claims said over background music from Tchaikovsky's The Nutcracker, feature Diane Lane, Andrew Rannells, Isabelle Huppert, Amanda Peet, Kathryn Hahn, JJ Feild, Aaron Eckhart, and even more. Who wants to play a game of Six Degrees of Kevin Bacon based on this roster?
Ending on a slightly meta twist, the trailer ends with a woman talking on the phone, telling the person on the other line that "that Romanov book" that a friend consulted on is being turned into a miniseries. Is this adaptation process the secret link between all of these strangers' claims? Maybe this pitch of a miniseries actually leads to the most twisted family reunion ever.
Weiner has remained tight-lipped about how the premise unfolds over time and avoids feeling stale after the umpteenth person claims he's related to the Romanovs. However, Amazon has revealed information about The Romanoffs' first two episodes and who stars in them. The show's premiere episode, "The Violet Hour," stars Marthe Keller, Aaron Eckhart, Inès Melab, and Louise Bourgoin, while the second, "The Royal We," features Corey Stoll, Kerry Bishé, Janet Montgomery, and Noah Wyle.
Debuting just over a century since Czar Nicholas II and his family were executed during the Russian Revolution and some members of the clan were said to survive, The Romanoffs cover one of the world's greatest mysteries. Weiner had his own reasons for tackling such a well-known story in a slightly different light, telling Vulture:
And the reason that I picked the Romanovs is that in an era where we have social media and so much theoretical connection to each other it really seems like we're further apart than ever. And I love this idea that these characters believe themselves to be, whether they are or not, descendants of this last autocratic family who are part of one of the great true crime stories of all time. I also love that it's the chance to talk about nature v. nurture, what they have in common and what is left of a grand heritage.
We'll have to tune into The Romanoffs to see how many stars will actually appear on screen together or if we get a bonus Mad Men reunion during the series. The Romanoffs premieres on Amazon Prime on Oct. 12, 2018.