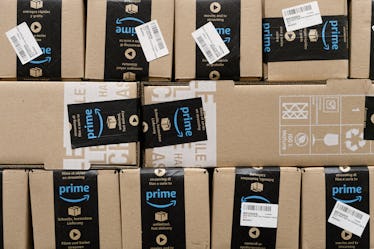 Amazon's "12 Days Of Deals" Are Back To Make Your Holiday Shopping So, So Easy
Leon Neal/Getty Images News/Getty Images
It's officially December, and the present-buying frenzy of the holiday season is in full swing. If you're anything like me, you've got a long list of friends, family, co-workers, and even pets you're gearing up to shop for, so why not save the time spent going from shop to shop, and buy online? Once again, the online retail giant Amazon will make it easy to get a present for everyone on your "nice" list. Amazon's "12 Days of Deals" for December 2018 is a perfect way to save yourself some time while checking things off your shopping list.
On Sunday, Dec. 2, Amazon will kick off its "12 Days of Deals." Hundreds of new items will be available each day until Thursday, Dec. 13, and each day will feature deals and discounts across different categories and shopping themes on the website. Per Amazon, there's a breakdown of the different themes by day so you know when to log on and find a deal on what you're looking for. According to an emailed information from Amazon, here are the respective deal categories for each day:
Sunday, Dec. 2 – Home Improvement
Monday, Dec. 3 – Gaming
Tuesday, Dec. 4 – Toys
Wednesday, Dec. 5 – PC
Thursday, Dec. 6 – Home
Friday, Dec. 7 – Fashion
Saturday, Dec. 8 – Baby, Pets & Camera
Sunday, Dec. 9 – Beauty & Personal Care
Monday, Dec. 10 – Electronics
Tuesday, Dec. 11 – Kitchen
Wednesday, Dec. 12 – Furniture, Lawn & Garden
Thursday, Dec. 13 – Sports & Outdoor
BRB, marking down Dec. 10 on my calendar to look for potential sales on electronics favorites like Beats and the Amazon Echo (the exact sale items haven't been released yet, but a girl can dream, right?).
Though the "12 Days of Deals" offer is sure to help you find what you're looking for this holiday season, the online retailer has multiple other offers and benefits for Amazon shoppers this holiday season. Shopping for a Disney lover? Amazon is offering discounts on select Disney, Star Wars and Marvel merchandise on Treasure Truck. Feeling lucky? Amazon's Hyundai Giveaway is giving one lucky winner a brand new Hyundai Santa Fe 2019, and it's super easy to enter. Need a break from all that holiday shopping? Prime members get exclusive access to early showings of Aquaman on Saturday, Dec. 15 at 7 p.m. local time. That's a full week before the movie is released nationwide. Shop, enter a sweepstakes, go see a movie — seems like a pretty sweet schedule to me!
Though the details of the daily themes aren't released yet, you can make some guesses based on 2017's 12 "Days of Deals." Last year, shoppers saved up to 30 percent on select kitchen essentials and up to 40 percent on athletic gear like outdoor sports and games, per Refinery 29. Since Amazon carries everything from Instant Pots to bikes, it's fair to assume that the variety and savings amount will be similar — if not even better — this year.
It's no secret that while you love the holidays, you don't always love holiday shopping. But you can avoid the the crowds and the traffic and still save a bunch of money with Amazon's "12 Days of Deals." Happy holidays and happy shopping, everyone!