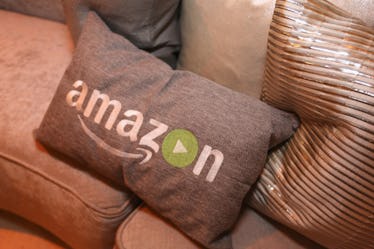 Amazon's Cyber Monday Sale Will Make You Love Online Shopping Even More
Rachel Murray/Getty Images Entertainment/Getty Images
Guys, I actually decided to wake up early, get my finances together, and go shopping on Black Friday this year. If you know me, you understand what a huge deal that was, because I usually don't like dealing with chaotic crowds and traffic during my Thanksgiving break. However, I realized one thing: Stores weren't nearly as crowded as I thought they'd be. After scratching my head and wondering why, I came to the conclusion that most people probably opt for shopping online now. To be honest, these Amazon Cyber Monday 2017 deals are making me regret I trudged through the chaos for sales on Friday. Once you learn more about them, I'm sure you'll agree.
For those of you who don't know what Cyber Monday is, allow me to explain. From my own experience and observations, Cyber Monday is basically Black Friday... but online. The big day lets you partake in the sales from the comfort of your own couch instead of waiting on massive lines for the new shoes you've been eyeing out for months. To be honest, it's genius — and Amazon is making the special day a little bit better with its Cyber Monday Deals Week.
Get your laptops out, ya'll. It's time to be enlightened.
According to Newsweek, Amazon's Cyber Monday sale will begin on Sunday, Nov. 26 at 8pm ET for people who own Alexa-powered devices (aka, "voice shoppers"). If you're a "voice shopper," you'll be able to take advantage of tons of Cyber Monday deals just by speaking to your device. Amazon's Voice Shopping Early Access page gives customers a sneak peak on what they'll be able to buy once the sale starts. By the looks of it, you'll be able to buy everything from light bulbs to a grey fabric Amazon Echo once you start voice shopping on Sunday night.
If you aren't a voice shopper, you'll be able to partake in the deals week, which reportedly begins on Monday, Nov. 27. Many devices on sale for Cyber Monday include electronics, like the Amazon Echo Dot (which went from $50 to $30), and the Amazon Fire TV Stick with Alexa Voice Remote (which went from $40 to $25). You'll be able to find deals for Amazon's Cyber Monday Deals Week on their landing page for the sale, which easily maps out the Deals of the Day, Today's Hottest Deals, and Deals by Department.
For instance, if technology isn't your thing and you'd rather skim the fashion sales, you can click on "Cyber Monday Savings on Fashion," which will bring you straight to the site's Cyber Monday page for style. To be honest, one of my favorite deals here is this Calvin Klein Floral Printed Saffiano Clutch. It went from $168.00 to $117.60, and it pretty much perfect for holiday parties.
Of course, the Cyber Monday options are endless whether you're trying to find the perfect new bag for yourself or the best gifts for your family members. Some of you who shopped on Amazon for Black Friday probably know this.
Amongst the many items on sale during Black Friday on Amazon, their electronic deals seemed super appealing (and I'm not even a techie person). For instance, you could have purchased a Kindle for $49.99 (originally $79.99), and All-New Echo for $79.99 (originally $99.99), or an Amazon Cloud Cam for $99.99 (originally $119.99).
If you missed on on these deals, have no fear: Cyber Monday is coming, and Amazon has your back.
Check out the entire Gen Why series and other videos on Facebook and the Bustle app across Apple TV, Roku, and Amazon Fire TV.