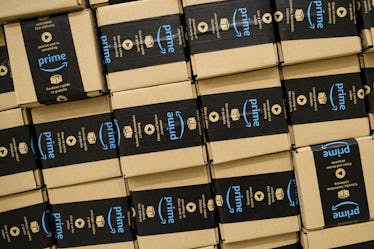 Amazon Black Friday 2017 Electronic Deals That'll Make Shopping From Home So Worth It
Leon Neal/Getty Images News/Getty Images
Black Friday is coming up, which means that every item you've had aspirationally bookmarked for months might finally be yours. You should probably run — not walk — to all the sales happening next week. Or, if it's a wee bit too cold, do all of your purchasing from the comfy abyss of your bed. Here's 14 Amazon Black Friday electronic deals that will make all your Thanksgiving dreams come true.
Amazon is rolling out different deals from Nov. 17 through Nov. 24, so it's best to start getting organized ASAP. There sadly isn't a specific roll out schedule, so you'll want to keep checking the Amazon Black Friday site or the Amazon app for the latest deals on that particular day. PLUS, don't forget that there's going to be a Cyber Monday with even more deals, so really this is all set up to be the happiest of weeks.
Now, let's take a step back and look at all the electronic deals.
(Because, really, the only time buying a fancy gadget feels reasonable and kinda doable is on Black Friday.)
You can buy an Echo Dot for $29.99 (normally $49.99), a Fire HD 8 for $49.99 (normally $79.99), and a Kindle for $49.99 (normally $79.99). You can also snag a Amazon Tap for $79.99 (normally $129.99), an All-New Echo for $79.99 (normally $99.99), and a Fire TV Stick with Alexa Voice Remote for $24.99. Plus, grab a Amazon Cloud Cam, for $99.99 (normally $119.99).
If you're looking for something of the big screen variety (because television sets haven't quite become a quaint thing of years past), there's a ton of cheap(ish) options. You can pick up a Sony 55-inch TV for $999.99, and a 32-inch TV for $69.99. Let all the binge watching begin.
If you're feeling the need to escape from the occasionally stifling confines of everyday life, you can grab a $100-off deal on Playstation virtual reality bundles. There's also some bluetooth headsets going for $99.99, which is important because it is a proven fact that talking on a phone can give you chin acne. I have learned this the hard way.
There's also a ton of odds and ends electronics that you can pick up as well, if you're feeling especially thrifty. According to Amazon's Black Friday press release, Seagate hard drives are going to be 25 percent cheaper than usual, as will select 3D printers. You'll also save up to $150 on Acer Helios 300 Gaming Laptop and $120 on Cyberpowerpc Gaming Desktop.
To be honest, I didn't realize that there were so many different gaming laptops (slash don't totally know what a gaming laptop is), but I've very on-board with the whole thing.
There's also a ton of deals outside of the electronics aisle that you might want to keep an eye on. Like, if you're an Amazon Prime member, you can get $10 off your first Amazon Restaurants order plus free delivery. That deal is viable between Nov. 24 and Nov. 27. You can also save 40 percent on new release movies and TV seasons, which, hi, will make winter all the less depressing and all the more entertaining.
You can also pick up a bunch of items you never knew you needed. Mini Aroma Essential Oil Diffuser for $19.99? Sure, why not. A fancy looking waffle maker for $14.49? Load it up.
Basically, if the thought of spending time with all your extended relatives is making you feel extreme levels of stress and anxiety, think of Black Friday as your release. I'm sure you'll need a bluetooth headset in black, white, and red at some point. Don't worry, this is a shame-free zone.
Check out the entire Gen Why series and other videos on Facebook and the Bustle app across Apple TV, Roku, and Amazon Fire TV.