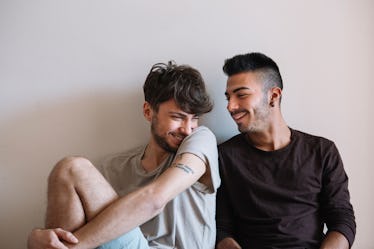 3 Signs You're Haven't Fully Fallen In Love With Your New Partner Just Yet
Falling in love feels like you're on all of the happy drugs. It's equal parts "Daniel After Dentist," "I just joined an amazing new cult and I would do anything for its leader," and "Am I coming down with the flu?" Falling is love is (clearly) difficult to explain. However, falling into lust, falling into post-two-martini like, or falling into infatuation all conjure similar sorts of euphoric feelings — at least for a moment. If you've ever had any of the above feelings and then thought "HELP! Am I in love?" you're absolutely not alone.
How do you actually know if you're in love? (And also, when will there be a pee-on-a-stick test you can buy at the drugstore for it?) Here's me playing devil's advocate: If you're not sure if you're in love yet, can you really be in love? Don't you just "know when you know"?
To gain clarity on this somewhat ambiguous matter, I spoke to Clinical Psychologist and host of The Web Radio Show, Joshua Klapow, Ph.D about what red flags that can indicate you're not quite in love yet. Here's what he shared with me.