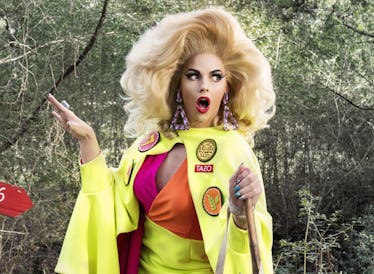 Alyssa Edwards' Outlook On Failure Is Inspiring: "You Don't Have To Win To Win" – EXCLUSIVE
TAZO Tea
Alyssa Edwards is all about passion — passion for dance, passion for drag, and passion for teaching the dancers at Beyond Belief Dance Company. If it's something Alyssa Edwards has put her mind to, you can bet she's passionate about it. The drag queen rose to fame on RuPaul's Drag Race (she's one of the only queens on the show to ever be eliminated on three separate seasons), but it's her passion for improving her craft and bettering herself that has turned her into one of the most successful drag queens on the circuit post-Drag Race. Alyssa Edwards' advice about failure shows she's living proof that "failing" in your past is just setting you up for success in the future, as long as you put in the work to rise to the occasion of opportunity.
In an exclusive interview with Elite Daily, Alyssa Edwards (whose real name is Justin Johnson) tells me how all of her "failures" in the past had to happen in order for her to flourish now. It was only in the moments where she was forced out of her comfort zone that she truly figured out who she was as a person, a performer, and a teacher, and how to move forward with that sense of self. She's working with TAZO Tea to create a similar experience for adults who are looking to get out of their comfort zones and revitalize their lives. Because as Alyssa Edwards' drag career has proven, "you don't have to win to win."
There's a bigger win in life, and there's a journey out there with your name on it. Experience that.
Edwards, 38, and TAZO Tea have created a unique camping experience (don't worry, it's glamping) aimed at getting adults to get back in tune with the dreams they might've stifled in the past. Camp TAZO: Passion will be the first in a series of three-day camping trips. Each camp will have a different theme, and the inaugural weekend held in March 2019 in Texas will be hosted by none other than Alyssa Edwards herself — not Justin Johnson, but Alyssa Edwards, aka she'll be camping in full drag.
It's as amazing as it sounds.
Edwards tells me going to camp as a child is one of her fondest memories and always had her leaving feeling more connected to herself. "I would go to church camp every summer and I would leave after that week feeling so inspired and motivated to conquer life, the world," she says. Camping always helped her discover new things about herself, so she feels the Camp TAZO: Passion event will help adults who feel like they're stuck in a rut reconnect with themselves as well. Applications for the camp are now open, and those selected will be sent to the camp on a scholarship basis.
Getting adults to be vulnerable is easier said than done, however. But Edwards isn't a rookie when it comes to getting emotionally closed-off people to be vulnerable and honest. In Edwards' new Netflix show Dancing Queen (which is being referred to as the new Dance Moms), you see Justin Johnson take on the stressful world of the competitive dance circuit and all of the stress, anger, tears, and joy that comes with working with young dancers and their mothers.
Johnson does commentary both in and out of drag, and every episode contains some kind of drag performance. But the most common thread throughout the first season is Johnson navigating through his relationships with the dance moms, the dancers at Beyond Belief (the company he runs in Mesquite, Texas), his drag family, and his biological family. More than once throughout the season, you see Johnson trying to pull the emotional truth out of the dance moms and his biological siblings, and leaning on his drag family for support.
The hope for Camp TAZO: Passion is that Alyssa Edwards, in all of her Joan Collins-inspired drag glory, will show the campers that putting your full self out there for the world to see is well worth the risk, just like Edwards exemplifies throughout Season 1 of Dancing Queen.
Although she's excited about the camp and the opportunity to connect with its attendees, she knows that it's going to be nerve-wracking for her and the campers going into the weekend. But her drag serves as her armor — once she has completed everything it takes to become Alyssa Edwards, all of her fears wash away.
"Are you putting on a fresh wig? Every insecurity, every fear, every doubt is diminished," Edwards tells me. "The power, the empowerment, and the ability to be another character and the strength of that is real to me. And drag gays need that power."
You don't have to win to win.
This camp is basically going to be a leap of faith into uncharted territory — something Justin Johnson is all too familiar with doing. In fact, Johnson has had to take that leap of faith before every big career move. Going on Drag Race three times was a leap of faith. Starting a career in drag was a leap of faith on its own, actually. And now, he has his own reality series on Netflix and makes appearances on RuPaul's Drag Race as a guest choreographer.
"You know, talk about full circle," Edwards says about returning to Drag Race as a guest choreographer. "And that just goes to show you don't have to win to win."
In the drag world, queens typically belong to a family of queens. And Alyssa Edwards isn't the only queen in the Haus of Edwards to have a huge year. Her drag daughter, fellow Drag Race alum Shangela, made her feature film debut as the drag bar owner in A Star Is Born. Edwards tells me that she and Shangela (who were close friends before they ever started doing drag) were filming Dancing Queen and A Star Is Born at the same time and would lean on each other for support.
"We were actually shooting [Dancing Queen and A Star Is Born] at the same time," Edwards tells me, "so we would FaceTime each other and share all the love."
She adds, "The thing that I love about our relationship, you know, we were friends before drag. So going through this experience together and getting to experience all these amazing opportunities, it's so beautiful."
Ironically enough, Alyssa Edwards and Shangela are both part of a small group of queens to be eliminated from Drag Race multiple times. Now, one of them has their own show on Netflix and the other is acting alongside Lady Gaga and Bradley Cooper in an immensely successful movie with tons of Oscar buzz. Not many Drag Race winners can say the same.
They both put in the work to get where they are. Despite all of the "failures" and hard times that came their way, they kept on evolving their craft until one day, the stars aligned. "How ironic, OK?" she says, "Cher's Dancing Queen, Dancing Queen — my series — comes out on Netflix, and Shangela is in A Star is Born all within one day of each other."
If there's anything the Camp TAZO leader can teach to the campers, it's that just because you have seemingly epic failures in the past doesn't mean you can't be successful in the future. And make no mistake: Alyssa Edwards is thriving right now.
"In the chapter right now, chapter 38, I am so alive," she says, adding, "I am living and I'm thankful for everything, every experience that I've ever experienced, each chapter before has shaped me to be the man that I am today."
"There's a bigger win in life," she concludes, "and there's a journey out there with your name on it. Experience that. And I believe that the rest is up to us."