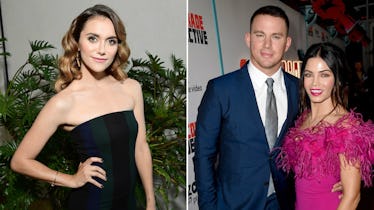 Channing Tatum & Jenna Dewan's 'Step Up' Costar Sent Them A Sweet Message After Their Split
Emma McIntyre/Getty Images Entertainment/Getty Images & Kevin Winter/Getty Images Entertainment/Getty Images
Me and Alyson Stoner are not done mourning Channing Tatum and Jenna Dewan's relationship. Ever since news first broke on April 2 that the two dancers and actors had separated, fans have been in a full-on downward spiral. It seems everyone has something to say about it, including Stoner. Alyson Stoner's message to Channing Tatum and Jenna Dewan after their split is super supportive and sweet, and honestly, we can all probably take a page out of her book.
Stoner played Tatum's little sister in the famous Step Up film where he and Dewan originally met on set. She opened up Entertainment Tonight about what she said to Tatum and Dewan when she heard the news. Stoner explained,
I sent both of them a message that said 'love you both,' and I believe there's beauty and love and [growth] ahead for all of them, including little Everly, [their daughter]. They're wonderful people. I've never had anything negative to say about either of them, and I know that they're going to take care of their family in a wonderful way.
She added, "I'm not even trying to be P.C. They're genuinely the best people. I am in love with both of them, and not in that way because I just came out and now I gotta be careful."
Sob-fest City. Population: All of us.
Of course, Stoner is referring to her own recent announcement about falling in love with a woman. She wrote a personal essay for Teen Vogue explaining,
I, Alyson, am attracted to men, women, and people who identify in other ways. I can love people of every gender identity and expression. It is the soul that captivates me. It is the love we can build and the goodness we can contribute to the world by supporting each other's best journeys.
She added, "If you're questioning or struggling with your sexuality, gender identity, or anything else, know that I and so many who've gone before us are with you. Whatever your identity, you are lovable and wonderful and enough. I'm on the other side of some of these battles internally, but it's still a challenge in the outside world. It's OK. Dare to be yourself anyway."
As for Tatum and Dewan's relationship, they dropped the sad news about their split on social media a few months after Tatum reportedly moved out. On April 2, he shared a sweet, personal message on Twitter to fans. It read, "Hey world! So... we have something we would like to share..."
The message went on,
We have lovingly chosen to separate as a couple. We fell deeply in love so many years ago and have had a magical journey together. Absolutely nothing has changed about how much we love one another, but love is a beautiful adventure that is taking us on different paths for now. There are no secrets nor salacious events at the root of our decision — just two best-friends realizing it's time to take some space and help each other live the most joyous, fulfilled lives as possible. We are still a family and will always be loving dedicated parents to Everly. We won't be commenting beyond this, and we thank you all in advance for respecting our family's privacy.
Ah, God. It cuts so deep.
The two were together for nearly 12 years before making the decision to call it quits. However, you've got to give it to them. If you've got to announce your divorce one way or the other, a gorgeous, positive, loving message printed over an ombre background is the way to do it.
In the wise words of Lee Ann Womback... if you get the choice to sit it out or dance, I hope you dance, Channing and Jenna.