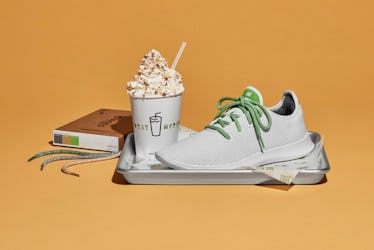 Allbirds x Shake Shack Sneakers Are Here, But You Gotta Run Fast If You Want To Snag 'Em
Allbirds
I'm a burger fiend. I know a lot of people say that but I really am. And as an ex-New Yorker, one burger chain stands above the rest for me, not only for its scrumptious cuisine but because it just announced the coolest collaboration ever. Allbirds x Shake Shack sneakers are here in what I believe is the most delicious fashion release of 2018, because who doesn't want to trot around with tiny buns and patties on their feet?!
If you've never had the pleasure of biting into a Shack Stack, I pity thee. It combines one of their cheeseburgers and one of their signature 'shroom burgers ("crisp-fried portobello mushroom filled with melted muenster and cheddar cheeses") into one delicious sandwich, which is complete with lettuce, tomato, and ShackSauce. If you're not hungry just from reading that then we can't be friends. Their crinkle cut fries and frozen custard concoctions are knockouts, too (literally, I blackout when I indulge in either) — I think only In-N-Out Burger can rival Shake Shack. Ah, another classic case of East Coast vs. West Coast!
And what Shake Shack is to the burger world, Allbirds is to the footwear world. Founded by Tim Brown and engineer and renewables expert Joey Zwillinger, the brand offers "an entirely new category of shoes inspired by natural materials, and an ongoing mantra to create better things in a better way," as described on their website. At the crux of Allbirds shoes is a new revolutionary wool fabric that Brown and Zwillinger devised specifically for footwear. Lightweight, uber comfy, and made from sustainable and natural materials (no synthetic BS, here!), the shoes have quickly gained a cult following. (Before writing this story my editor was telling me how much her boyfriend loves the brand.) And it's about to grow exponentially thanks to their newest collaboration.
For just one day, on May 24th, burger and footwear fans alike will be able to shop the new Allbirds x Shake Shack Tree Runner sneaker at the Shake Shack location in New York City's Madison Square Park from 10am - 8pm. (If you've never been to that location it rules — Madison Square Park always features a cool creative art installation to take in.) The style is made from sustainably harvested eucalyptus trees (both companies are dedicated to quality ingredients and materials) and features a mini burger motif on its tongue. Green accents and laces make the white shoe pop, while its knit texture gives off a super sleek and sporty aesthetic. Even if you're not as in love with the burger chain as I am, the shoes are legitimately stylish.
Seeing as white sneakers are the shoe that goes with literally everything (from Nike shorts and graphic tees to miniskirts and yes, even romantic floral dresses), why wouldn't you invest in a playful new pair?
What's more, to celebrate the partnership Shake Shack will be debuting a new "Hokey Pokey" shake containing vanilla frozen custard, honeycomb candy, and chocolate, topped with whipped cream and toffee. I'm drooling again.
For $100, you'll be able to cop the shoes, a shake, and a 3-pack lace kit, meaning you can customize your new shoes as you see fit. And as an added bonus, you'll also be able to check out a custom installation by street artist Eric Rieger when you're making your purchase. Known for his "elaborate, eye-catching and non-destructive work," he'll "bring Allbirds's 'light and breezy ' Tree collection experience to life," according to a press release.
A shopping, art, and culinary event? Three of my favorite things in one. Count me in.