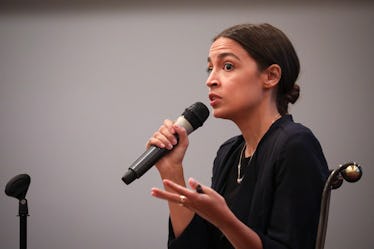 Alexandria Ocasio-Cortez Pointed Out An Important Issue About Health Care Over Twitter
Drew Angerer/Getty Images News/Getty Images
By now, we all know that Congresswoman-elect Alexandria Ocasio-Cortez means business. Since clinching her victory to represent New York's 14th District, the 29-year old politician has openly voiced her plans for 2019, and they could change everything. Well, Alexandria Ocasio-Cortez's tweets about health care are no different, and represent the hard truth we need to hear.
On Saturday, Dec. 1, Ocasio-Cortez took to Twitter to discuss disproportionate access to health care opportunities, and how not everyone has the same access to good health insurance compared to others. According to her tweets, Ocasio-Cortez had to pay twice as much for health care when she worked as a waitress compared to how much she will pay as a member of Congress. As a congresswoman, Ocasio-Cortez apparently has the option of signing up for well-subsidized, high-quality health insurance, which she pointed out was unfair to those denied many health care opportunities. Once pointing out the difference, Ocasio-Cortez proceeded to call for universal Medicare, which would allow individuals of all careers and economic classes to enjoy affordable health care.
In another tweet, Ocasio-Cortez once again proved she's the most #relatable congressperson by complaining about the tedious and confusing process of picking out health care plans, and how every American deserves a health care enrollment process that's less complicated and more accessible to everyone.
Preach, Congresswoman-elect Ocasio-Cortez, preach.
Fact-checking website Snopes released a report discussing the health care benefits given to members of Congress. According to the report, members of Congress receive the gold-level Obamacare policy, along with federal subsidies that cover 72 percent of the premium health care costs. Therefore, members of congress and other staff only pay "28 percent of their annual health care premiums through pre-tax payroll deductions," per Snopes.
Meanwhile, according to the Kaiser Family Foundation's health insurance calculator, a New York City resident that makes around $48,500 annually, which is the yearly pay for a restaurant employee working 40 hours a week with no time off per a 2014 survey of city restaurant workers, would have to pay $399 per month in premiums for a silver-level Obamacare policy. That number is after the government subsidy — 32 percent of the cost — has already been applied. Although Ocasio-Cortez didn't give a dollar number for her premiums as a waitress or a member of Congress, this is no chump change.
The discussion surrounding affordable health care has taken a front seat in politics since the 2016 presidential election, when progressive Democrat Bernie Sanders made "Medicare for all," also known as the single payer health care system, one of his main talking points during his run for president. Single-payer health care is a system in which all health care costs are covered by one large agency — like a government — and all residents are automatically covered.
Once announcing her run for Congress, Ocasio-Cortez mirrored Sanders' progressive health care initiatives by championing for universal and affordable health care. According to a Reuters–Ipsos poll, 70 percent of Americans support "Medicare for all," a system with initiatives that include ensuring all Americans have access to health care regardless of income, protecting people's health if they become unemployed, and seeing that individuals making $250,000 or more pay their "fair share in taxes."
Ocasio-Cortez's point that as a waitress she had to pay more for health care than as a member of Congress speaks to an important issue within the United States. According to a June 2017 report from the Centers for Medicare and Medicaid Services (CMS) the price of health care has risen significantly from 2007 to present day. According to the CMS report, national health care spending is projected to increase 5.5 percent, reaching up to $5.7 billion by 2026. That being the case, health care spending per person could reach up to nearly $15,000 in 2023. Talk about a pretty penny.
Even though there's a lot of work left to do concerning our health care system, it's still important to stay up to date and know what to do. So, for those wondering when we can get health care, the open enrollment period for 2019 ends on Saturday, Dec. 15, and it applies to both first-time and renewing consumers.
Make sure to take that information down and mark your calendars. Health care may not be perfect quite yet, but luckily for us, some people are trying to fix that.