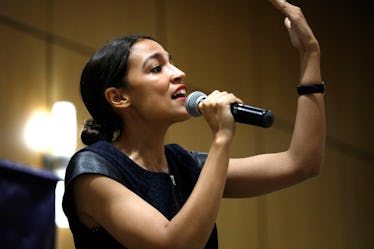 Alexandria Ocasio-Cortez Clapped Back Hard At Critics Of Her Stance On ICE
Bill Pugliano/Getty Images News/Getty Images
Alexandria Ocasio-Cortez, who's running for Congress in New York's 14th District, has become the subject of increased scrutiny since winning her primary back in June, but she doesn't seem to ever let it get her down. The latest attack on the 28-year-old came on Tuesday, Aug. 21, when a reporter for Fox News criticized Ocasio-Cortez's stance on U.S. Immigration and Customs Enforcement (ICE). But her clapback was perfect, and Alexandria Ocasio-Cortez's tweet about ICE and Jakiw Palij is a message that needs to be heard.
Fox News contributor Katie Pavlich took to Twitter on Aug. 21 to call out Ocasio-Cortez for her calls to abolish ICE, pointing out that former Nazi labor camp guard Jakiw Palij had been arrested and deported back to Germany on Aug. 20 by the organization. Palij had lived in Queens, New York, in a part of the borough which is covered by the district Ocasio-Cortez is seeking to represent in Congress. Pavlich's tweet read:
@Ocasio2018 wants to abolish ICE. Today ICE deported an actual Nazi from her congressional district in Queens
Ocasio-Cortez hit back on the platform, writing that her support for abolishing ICE does not mean abolishing deportation — or supporting Nazis. She wrote:
#AbolishICE means not having an agency that incarcerates children and sexually assaults women with impunity. It does not mean abolish deportation. Also, I have no problem saying white supremacy has no place in this country. It's the GOP that struggles to say that.
Oof.
The exchange came in response to the highly publicized arrest of 95-year-old Jakiw Palij, who was believed to be the last Nazi war criminal living in the United States. Palij, whose history was uncovered in the early 2000s and lost his U.S. citizenship in 2003, was removed from his home in New York by ICE on Aug. 20 and deported back to Germany after living in the United States for decades. According to ABC News, Palij is accused of serving as an armed guard at the Treblinka death camp in Nazi-occupied Poland, including on on day in November 1943 when 6,000 prisoners were killed in a massacre. Palij has denied being a Nazi collaborator, telling the New York Times in 2003 that he was conscripted at age 18. ''I know what they say, but I was never a collaborator,'' he said at the time. Although he was ordered to be deported in 2004, it wasn't until Aug. 20 that the order was carried out, as none of the countries he could be deported to would receive him, per CNN.
Beyond this deportation, however, ICE has recently faced massive amounts of criticism for their actions in enforcing immigration, which many have said are cruel and inhumane. The agency drew particular fire over Trump's now-abandoned "zero tolerance" policy, which permitted the separation of migrant children from their families after crossing the U.S. Southern border illegally. Many critics said the policy was cruel and unnecessary, noting the harm it did to children and family bonds.
The criticisms have led many people, including some politicians, to call to abolish ICE. Besides Ocasio-Cortez, the agency has been denounced by Sens. Elizabeth Warren of Massachusetts and Kirsten Gillibrand of New York, Reps. Mark Pocan of Wisconsin, Pramila Jayapal of Washington, and more.
Ocasio-Cortez's clapback covered more ground than just ICE, though. According to The Independent, Neo-Nazi groups have been on the rise under the Trump administration. The outlet reported in February that Trump's harsh immigration rhetoric and failure to condemn white supremacists has invigorated hate groups.
"President Trump in 2017 reflected what white supremacist groups want to see: a country where racism is sanctioned by the highest office, immigrants are given the boot and Muslims banned," Heidi Beirich, of the Southern Poverty Law Center's (SPLC) Intelligence Project, said in a press release to the outlet. President Trump has drawn criticism for his reluctance to denounce white supremacists, including infamously saying that there were "some very fine people" among white supremacists at a 2017 rally in Charlottesville, Virginia where a counter-protester was killed.
Even if Trump repeatedly fails to condemn critical issues, Ocasio-Cortez just made it even clearer that she has no problem doing so. It's something.