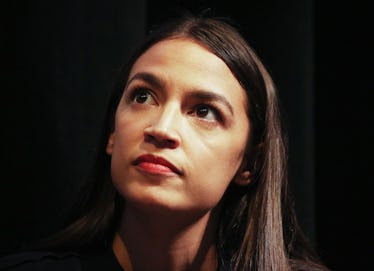 Alexandria Ocasio-Cortez Called Out An Obvious Problem About Arming Teachers
Mario Tama/Getty Images News/Getty Images
Following the terrible shooting at Marjory Stoneman Douglas High School in Parkland, Florida on Feb. 14, the country began once more talking about ways to make schools safer. But while many wanted to restrict guns, President Donald Trump had his own idea: as part of his March proposal on making schools safer, he suggested arming teachers. Now, Secretary of Education Betsy DeVos is reportedly considering allowing federal funding to be spent to provide teachers with firearms and firearm training, and not everyone is thrilled. In fact, Alexandria Ocasio-Cortez's tweet about arming teachers is pointing out this big problem.
On Wednesday, Aug. 22, The New York Times reported that the Department of Education (DOE) is in the process of deciding whether they'll allow states to use federal funding to purchase guns to arm their teachers. The funds are meant to be used for improving school conditions by contributing to programs like increased access to mental counseling, dropout prevention programs, and re-entry programs for children transitioning out of the juvenile justice system. Department of Education Press Secretary Liz Hill tells Elite Daily in a statement:
The Department is constantly considering and evaluating policy issues, particularly issues related to school safety. The Secretary nor the Department issues opinions on hypothetical scenarios.
But Ocasio-Cortez, a congressional candidate running to represent New York's 14th District, pointed out a major issue with the idea which really deserves some attention. In her Aug. 23 tweet, Ocasio-Cortez pointed out that the government doesn't seem to be able to find enough money for the classrooms to have the basic necessities like "books and supplies," but they can find the money for guns? Ocasio-Cortez wrote,
94% of teachers spend out-of-pocket money for their classrooms. The fact that we can find money for guns in schools, but not enough for new books and supplies, tells you that this is an investment in the school-to-prison pipeline.
According to CNN, 94 percent of public school teachers have spent their own money on supplies for their classrooms without ever being reimbursed. In May 2018, the National Center for Education Statistics published a study which found that on average, in a two-year period, educators spend about $479 out of pocket. The amount of money teachers spent varied depending on things like community type, school classification, instructional level, and the socioeconomic standing of the schools' students. The study also found that in school where a higher percentage of children relied on the free or reduced-price lunch program, the amount of money educators were spending was higher.
DeVos and the DOE have not confirmed if federal funds will be used to arm teachers, but it's a "loophole" in a plan they're eyeing, according to The New York Times. While Congress has prohibited funding firearms out of a school safety bill it passed March, a grant to improve school enrichment called the Student Support and Academic Enrichment grant doesn't have any explicit prohibition against using its funds to arm teachers. That means that DeVos would theoretically be able to grant permission for the states to use their funding under the grant for firearms unless Congress intervenes, according to The New York Times.
The idea for giving firearms to educators came up when Trump suggested arming teachers after hearing stories from school shooting survivors, including the Parkland students, at the White House in March, according to CNN.
"If you had a teacher who was adept with the firearm, they could end the attack very quickly," Trump said at the time. He then added that it would obviously only be for those who were "very adept at handling a gun" and that it would make things better because having armed teachers would deter attackers who know they run the risk of being shot as well. He said,
This would be obviously only for people who were very adept at handling a gun, and it would be, it's called concealed carry, where a teacher would have a concealed gun on them. They'd go for special training and they would be there and you would no longer have a gun-free zone. Gun-free zone to a maniac — because they're all cowards — a gun-free zone is 'let's go in and let's attack because bullets aren't coming back at us.'
The idea has proven extremely controversial, with many people, including safety advocates, speaking out against arming teachers.
Whatever you think of gun policy in general, it's clear that there are other things the DOE could also be looking at funding. Ocasio-Cortez is definitely thinking about it.