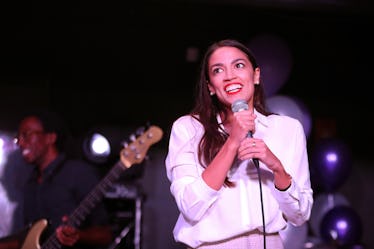 Alexadria Ocasio-Cortez Shared This Heartfelt Message After Winning In New York
Rick Loomis/Getty Images News/Getty Images
Alexandria Ocasio-Cortez is one of the record-number of women who stepped into the ring and decided to run in the 2018 midterm elections. In June's Democratic primary, Ocasio-Cortez beat out a veteran politician and snagged a win in New York's 14th District, an outcome that no one — probably not even Ocasio-Cortez herself — saw coming. Now that she won, Alexandria Ocasio-Cortez's response to winning in New York will make you so happy that she did.
While some races in the 2018 midterms might have been too close to call, The Associated Press reported on Nov. 6 around 10 p.m. ET that Ocasio-Cortez won her bid for New York's 14th district with nearly 80 percent of the votes, defeating Republican candidate Anthony Pappas. Once clinching her victory, Ocasio-Cortez, 29, will officially go down as the youngest woman to in history join the U.S. House of Representatives. Prior to Election Day, Ocasio-Cortez's already made history when she defeated Democratic incumbent Rep. Joe Crowley in the June primary, which represented a major upset in New York.
Ocasio-Cortez's journey to the House was a tough one, so once it was revealed that she had officially won her bid, the trailblazer took to Facebook in the late hours of Nov. 6 to share an inspiring photo thanking New Yorkers for all their support. She wrote,
Thank you. The family of organizers. The neighbors and community of NY-14. Friends, family, neighbors, activists, community leaders. This is about creating our future. Small actions matter so much more than we know.
At just 28, Ocasio-Cortez pulled off a major upset when she defeated 10-term incumbent Rep. Joe Crowley — fourth-ranking Democrat in the House of Representatives — in New York's 14th District, according to the New Yorker. Despite the loss, Crowley congratulated Ocasio-Cortez in a June 26 tweet and said he "looked forward to supporting her" in the general election. He wrote,
I want to congratulate [Ocasio-Cortez]. I look forward to supporting her and all Democrats this November. The Trump administration is a threat to everything we stand for here in Queens and the Bronx, and if we don't win back the House this November, we will lose the nation we love.
Maybe her midterm election win wasn't much of a surprise, but she was certainly floored by her Democratic primary win. On June 26, primary night, CNN tweeted a video of the moment Ocasio-Cortez realized she won her primary. As she stared up at the results displayed on the television, Ocasio-Cortez, looking utterly and completely surprised, screamed "I won," and brought her hands up to her face in shock. When NY1 reporter Ruschell Boone asked Ocasio-Cortez to explain how she felt, she said, "I cannot put this into words."
Following her historic win, Ocasio-Cortez made an appearance on CBS' This Morning on June 27, and said she had not been following the results prior to showing up at her viewing party, and felt shocked once she saw the results displayed. Ocasio-Cortez said,
I had not checked the results. We saw on the screens that we were up and we ran inside. And I ran into a TV set and looked up and saw exactly what the results were. And it was just so shocking. We had felt so great all day, but to see what that feeling looked like in numbers was astonishing.
Ocasio-Cortez ran on a leftist platform that championed things like Medicare for all and gun control reform. Since the start of her campaign, she was also extremely vocal against President Donald Trump's policies — especially his administration's zero-tolerance policy on immigration, which prosecutes all undocumented immigrants trying to cross the border. Because of the policy detaining and prosecuting undocumented adults, it led to the separation of over 2,000 children from their families, because children cannot be processed through the adult criminal justice system. Ocasio-Cortez has travelled to the border more than a few times to protest the Trump administration's policy. She told CBSN in June that she wants to defund Immigration and Customs Enforcement (ICE), which has been responsible for policing the southern border. Ocasio-Cortez told CBSN in June,
There's another way we have handled immigration, there's another way we can handle immigration. But the basic structure of ICE is extrajudicial and what we really need to do is re-assess our approach to immigration in the United States.
Ocasio-Cortez has a clear vision for the future of the country and ways to fight back against Trump policies, and her win is sure to contribute in changing the future landscape our nation's politics.