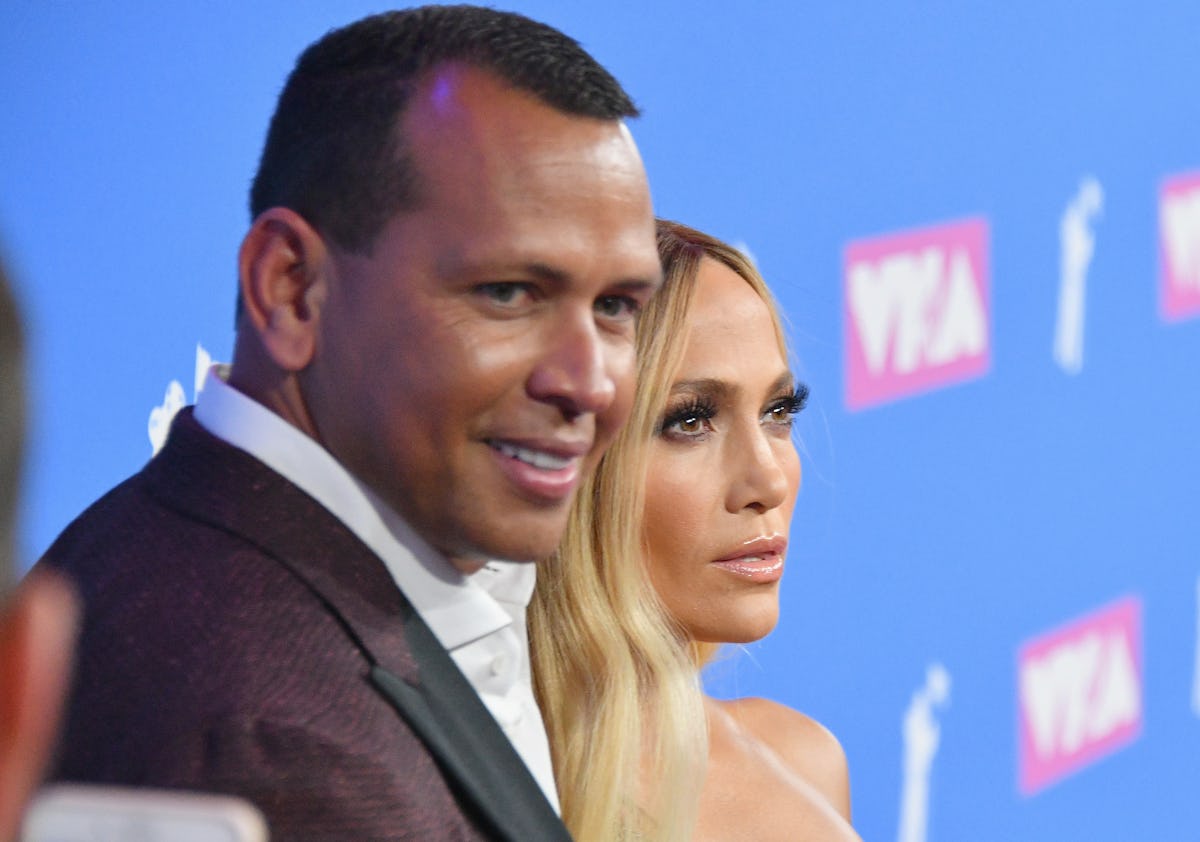 Alex Rodriguez Was J. Lo's Biggest Fan During Her Epic MTV VMAs Performance
Dia Dipasupil/Getty Images Entertainment/Getty Images
Show 'em how it's done, Jenny! Jennifer Lopez has been doing the damn thing since the '90s and she's still killing it. In fact, she's better than ever. The phenomenal dancer/actor/singer/inspiration is one of the world's most famous entertainers. You don't need any more proof of her greatness, although J. Lo just hammered home why she deserves her superstar status. And Alex Rodriguez's reaction to Jennifer Lopez's 2018 VMAs performance was everything. Her man was swooning as she rocked the Radio City stage, even filming the whole thing like the proud fanboy he is.
J. Lo, a recipient of this year's Michael Jackson Video Vanguard Award, hit the stage at Sunday, Aug. 20's MTV extravaganza to perform a medley of her catchiest hits, and boy did she not disappoint. Like something out of a fantastic dream, Lopez emerged in a sea of blue and yellow to perform "Waiting for Tonight" and then lauched into "On The Floor." It only got more epic from there, as she showed off her famously fabulous choreography — there was "Love Don't Cost a Thing" (yes!), a massive light show, DJ Khaled, a, giant 6 train prop, and dancers in metallic puffer jackets. OMG, is that Ja Rule?! What year is it?! Doesn't matter. The crowd went wild. Even J. Lo's fellow New Yorker Cardi B was visibly having the best time ever and so was I, and I'm sitting on the couch in sweats. J. Lo is a VMAs queen. I think it's time to name an NYC street after her. A. Rod would agree.
If you can believe it, Jennifer has not peformed at the VMAs since 2001, when she dazzled the crowd alongside Ja Rule on their hot jam "I'm Real" (a jam they reprised tonight). That was almost 20 years ago, and she's still got the moves today, although she ditched the oversized ribbon belt situation she was rocking. Honestly, Lopez may have been a tad overshadowed by Britney Spears and that snake-a-fied "Slave 4 U" number that year, but it didn't hurt her career one bit. J. Lo's career only skyrocketed from then on.
Lopez is a natural fit for the Video Vanguard award. The former In Living Color "fly girl" has been nominated for over 20 VMAs since 1999. Her catalog of music videos features some iconic moments — you may recall her keeping it real alongside former flame Ben Affleck in the media frenzy-inspired clip for "Jenny From the Block." She went all Flashdance for 2003's "I'm Glad," showed off her skills under strobe lights in "Waiting for Tonight," and caught the attention of the world cyber-style with 1999's catchy debut single "If You Had My Love.' And she's not slowing down any time soon. In addition to the Video Vanguard, Lopez was up for two Video Music Awards in 2018 — Best Collaboration and Best Latin Video, both for "Dinero" featuring DJ Khaled and Cardi B.
Lopez has been sharing her excitement for the VMAs since the announcement broke that she would be receiving this year's Vanguard Award.
On Aug. 15, she even shared some behind-the-scenes insight on her record-breaking video for 2011's "On the Floor."
"It's also my first video to reach 1 billion views on YouTube, and I was the first female artist to do that," she added on Twitter.
On MTV's Facebook Live interview on July 31, Jennifer reacted to the Video Vanguard news. The 48-year-old performer said, via CNN:
I was watching all the way back from Tina Turner, Bruce Springsteen and Madonna and Janet [Jackson] and Michael [Jackson], all of them. They were my inspirations to get into the music business, to do what I did. Their videos inspired me to do the videos I did. Now, to be 20 years in and here and winning this award, it's just mind blowing.
"I used to think of myself as, seriously, Jenny from the block. To be getting this award is every little girl's fantasy come true," Jennifer told Hoda Kotb on The Today Show Monday, Aug. 20.
It sounds like J. Lo's been waiting for tonight (wink!) for her entire career.