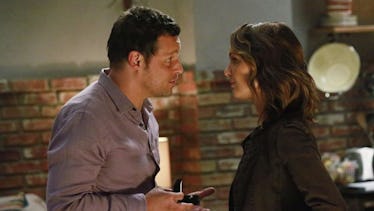 Alex & Jo's Wedding On The 'Grey's Anatomy' Season Finale Will Definitely Bring The Drama
Mitchell Haaseth/ABC
If one thing in life is certain, it's that a Grey's Anatomy season finale will be dramatic AF. Over the past decade, we've seen ferry boat crashes, hospital shooters, and deadly icicles take center stage during the final few episodes, but this year, Shonda Rhimes is going for something a little sweeter: The wedding of Alex and Jo, two Grey's staples. Don't expect things to go completely smoothly, though — remember what I said about Grey's finales? Alex and Jo's wedding on the Grey's Anatomy season finale will definitely bring the drama, so dry those happy tears. Actually, maybe you should keep the tissues on hand, because it looks like things are about to go very, very wrong.
In a new sneak peek at the Season 14 finale, which airs Thursday, May 17, Alex and Jo decide to get in a quickie before the ceremony (no, not in an on-call room) and end up getting locked in a shed. This all happens right before the wedding — I'm not talking hours, I'm talking minutes. Alex and Jo are in full wedding attire — Jo even makes a comment about getting her white dress dirty — and their guest are likely already drunk enough (this is Grey's, after all) to forget all about the happy couple's whereabouts.
As Jo tries to open the door to get out, she realizes that it's stuck, leaving the two trapped on their big day. "Can't you just kick it open?" Jo asks her longtime boyfriend turned fiancé. "I kicked it in," says Alex as he tries to pull the door open. "It doesn't move the other way." It only takes a few seconds for Jo to realize that they're totally screwed, and after a beat, she says calmly, "I'm going to scream now, OK?" The two begin screaming for help, but no one comes to their aid.
"Can they hear us?" Jo asks, no longer calm. "Definitely. They definitely hear us," says Alex. Either everyone is too drunk to help — which is totally a possibility — or they simply don't care, because it doesn't look like Alex and Jo are getting out of that shed any time soon. This wedding has been a long time coming for Jo and Alex, so if they don't make it out in time to walk down the aisle, I'm going to be seriously pissed.
According to Camilla Luddington, who plays Jo, the shed incident won't be the only obstacle the couple faces on their wedding day. Luddington told Entertainment Weekly that fans should expect the unexpected on the big day:
I am so excited for Jo and Alex to finally seal the deal and get married. But in true Jolex form, the wedding will have lots of twists and turns to it.
Ugh, lots of twists and turns? If the two get stuck in a shed after a quick hookup, that's one thing. Eventually, they have to get out, right? But if an actually serious issue arises — which you know will happen, because Shonda — it could totally derail their wedding, and once again, I'll be left ugly crying after a Grey's Anatomy season finale. For once, I would love to be crying happy tears at the end of a finale episode — just once.
Apart from Alex and Jo's wedding drama, the Season 14 finale will be emotional for fans who just aren't ready to say goodbye to April Kepner and Arizona Robbins. The finale will be Sarah Drew and Jessica Capshaw's final episode with Grey's Anatomy after almost a decade each, and fans are eager to find out how the show will wrap up their story lines. It seems like Arizona will move to New York to let Sophia be with her other mom, Callie, but April's fate is less sure. In the penultimate episode, April reunited with her ex-fiancé, Matthew, and fans are not at all excited by the possibility that she's leaving the hospital to be with that boring dude. Hopefully, the writers have something else up their sleeve, because if April settles for Matthew, why even bother with true love?
The Grey's Anatomy Season 14 finale airs at 8 p.m. ET Thursday, May 17 on ABC.