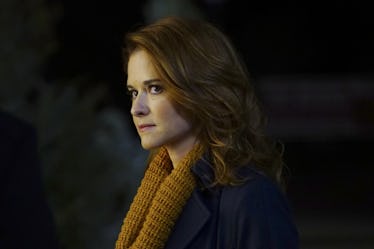 April Reunited With Her Ex-Fiancé On 'Grey's Anatomy' & Fans Were Seriously Pissed
ABC
After emotionally preparing themselves for April Kepner's assumed death for weeks, fans were relieved when Grey's Anatomy revealed April to be fully functional after she was badly injured in a car crash and underwent emergency surgery. However, the doctors believed that her chance of survival was slim, and I'm still weepy about Jackson's reaction to April's motionless body. Although Jackson and April getting back together as a result of her close call would have been incredible, the show took an extremely different path when it came to April's love life. April and Matthew reunited on Grey's Anatomy, and fans weren't too thrilled about the surprise match.
In May 10's penultimate Season 14 episode, "Cold as Ice," April's former fiancé Matthew was wheeled into Grey Sloan Memorial with injuries from rolling his car. A dazed and confused Matthew revealed to the doctors that April was with him at the time of the accident, prompting Owen to go to the scene of incident and eventually find April at the bottom of a ravine. April's ongoing life crisis apparently resulted in her reconnecting with her ex, who she left at the altar in Season 10 to elope with Jackson.
Matthew later married a woman named Karin, who died from complications in childbirth earlier this season. We last saw Matthew in Episode 19, "Beautiful Dreamer," when his infant daughter was having trouble eating, but other than April joining him in the hospital chapel, there was no hint of a reignited romance between them. This may sound crazy, but maybe a lack of foreshadowing was because his wife literally just died?
In "Cold as Ice," Arizona eventually spilled to her colleagues that April had been seeing Matthew, saying, "They knew each other's pain... and how something bad can come from something good. She's in love."
OK, Grey's Anatomy, I appreciate the beauty of that sentence, but April and Matthew? After Jackson prayed to God to save April's life? Really?
I'm not the only one disappointed about Matthew seemingly playing a part in April's departure, which next week's season finale will cover. Fans on Twitter and Reddit aren't thrilled with this blast from the past, particularly after the show reminded us of the strong bond April and Jackson still have with each other.
Reddit commentators put extra blame on Grey's Anatomy showrunner Krista Vernoff and the controversial directions she has often taken the show in the past few years. User imaswannn wrote:
April ending up with Matthew makes so sense but then again most of the storylines haven't made sense this season. Krista has erased 7 seasons of grey's this season and made her own version of the show.
On the same Reddit thread, SyanideElix doesn't buy the timing of Matthew and April's relationship, saying:
Sorry but this "reunion" of Matthew and April is utter bull****, especially since apparently they've been "together for months". That means April would have seeked him out during her crisis of faith, right after Karin died.
Seeing how rough of a time April has had this season, it is hard to believe that she didn't turn to Matthew at any point for help. Then again, Matthew has also faced his own struggles, but I also don't buy him wanting to be with April so soon after Karin's death. However, like it or not, their new relationship will probably explain April's exit in the Season 14 finale.
The teaser for the finale, called "All of Me," doesn't offer any hints about the nature of actress Sarah Drew's departure. Instead, it plays up the sitcom-like circumstances of Jo and Alex's wedding. They're stuck in a shed! Everyone else can't find them! Maybe there won't be a wedding after all!
Nah, there will still be a wedding. However, the episode title, "All of Me," does tease that Jackson and April may still share a special moment together in the finale. Not only did the John Legend tune play alongside Jo and Alex's first kiss, but it also accompanied April declaring her true feelings to Jackson despite being engaged to Matthew.
We'll have to wait and see how the love triangle concludes when Season 14 of Grey's Anatomy concludes on Thursday, May 17 at 8 p.m. ET on ABC.