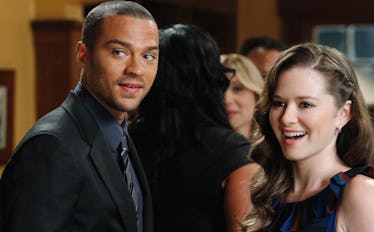 The 'Grey's Anatomy' Season 14 Finale Title Hints At Something Between Jackson & April
ABC
It's clear that April Kepner has a rough road ahead of her for the last two episodes of Grey's Anatomy Season 14. The teaser for the show's May 10 episode suggests that she suffers a tragic accident, causing her to become unresponsive and go into surgery. Because actress Sarah Drew is also due for her show exit by the end of the season, the worst case scenario that everyone has long suspected is that April will soon die. Things don't look great for her, but the Grey's Anatomy Season 14 finale title hints that she'll still have a special moment with Jackson before her mysterious departure.
The show's May 17 finale is titled "All of Me," which instantly reminds us of the John Legend song with the same name. Entertainment Weekly confirmed that the finale will include Jo and Alex's long-awaited wedding, and the episode title is particularly appropriate for the couple's relationship. Diehard fans will recall that the song "All of Me" played alongside Jo and Alex's first kiss in Season 9, but as Reddit user mcdramaa pointed out, that scene and its music also included a pivotal moment for Jackson and April's relationship.
Despite her impending marriage to Matthew, April arrived at Jackson's hospital bed in the Season 9 finale to tell him that she wanted him, suggesting that she wouldn't get married if Jackson felt similarly. Their exchange kicked off the lead-up to April eventually leaving Matthew at the altar to elope with Jackson.
The eagle-eyed Reddit user suggested that even though it'll be Jo and Alex's big day, the fittingly named episode title could mean that April lasts past May 10's grim-looking episode, or at least be on life support until the season finale. The teaser for the upcoming episode, "Cold as Ice," drops a major hint that April's body flatlines in surgery and Jackson throws himself on her, but maybe she pulls through enough to be stable for the finale?
While Jo and Alex's wedding may go on regardless of their friend, you know, maybe dying, "All of Me" could easily reference Jackson having a confessional moment at April's bedside, as she did at his all those years ago. Even though Jackson is technically in a relationship with Maggie right now, fans have been clear from the beginning that they don't approve of the two together. April's exit is inevitable, but could her hypothetical death mean that Jackson realizes he isn't meant to be with Maggie? That would be what I call a traumatic ending, but Ellen Pompeo has insisted that April's ending isn't horrible. Um, are you seeing something we're not, Ellen?
As for anyone believing that Jackson will leave the hospital after April dies, that additional theory isn't too likely. Jesse Williams is included in the cast list for Grey's Anatomy's upcoming Season 15, essentially confirming that whatever he goes through in the next two episodes won't be rough enough to drive him away from Grey Sloan Memorial just yet. However, I would wager that whatever happens to April will negatively affect his bond with Maggie, which is great for hardcore Jackson-April shippers.
Although the finale's focus will likely remain on Jo and Alex and whatever sudden obstacle they face before reaching the altar, "All of Me"'s subtle hint that Jackson and April will be recognized is definitely valid. For all we know, we only have Jackson sobbing by April's death bed to look forward to, but as long as the couple has some time in the spotlight, I'll be content.
Grey's Anatomy returns on Thursday, May 10, before airing the Season 14 finale at 8 p.m. ET, May 17 on ABC.