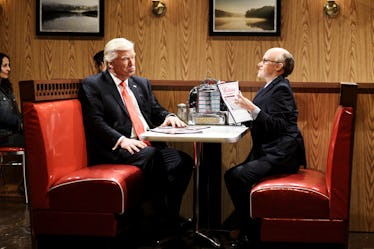 Alec Baldwin Will Return To 'SNL' As Trump, So Prepare Yourself For A Lot Of Laughs
NBC
Saturday Night Live may have reached its 44th year, but it shows no sign of slowing down. The live sketch comedy show on NBC is coming back at the end of the month, on Sept. 29, 2018, with Star Wars' Adam Driver as a returning guest host and controversial rap artist Kayne West as the musical performer. But they're not the only ones returning to the show to help out the Still-Not-Ready-For-Primetime Players. It was announced this week Alec Baldwin will return to Saturday Night Live as Trump for the 2018-2019 season, continuing an impersonation that's helped him to a career renaissance.
Baldwin created his Trump impression back during the 2016 campaign, and though he's tried to retire it at the end of every season after the election results doomed him to the character for the next four years, he keeps coming back. As SNL's long-time producer Lorne Michaels told the "Origins" podcast recently, the reason Baldwin keeps coming back is no one can follow him in the role.
I think there is probably no other actor who is looking to take that and follow Alec. And I think, for a new cast member to come in and try that would be a really tough thing to do.
Alec Baldwin will reprise his impression of President Donald Trump in the 44th season of "Saturday Night Live," the actor revealed during the "Origins" podcast with author James Andrew Miller, a longtime "SNL" chronicler.
Talking about the role on the podcast, Baldwin said it was an impression where you have to push it as far as it can go, and then some.
Trump is insane. I think most people know, the guy – he is insane. We have a man who is president who is insane. You can't go far enough with this idiot. You can't go far enough. You can't go far enough.
It also helps for the show to have a name like Baldwin anchoring the cold open sketches, because other famous faces are willing to make cameo appearances with him.
Although Baldwin has agreed to come back for another round, Michaels admitted each season has been touch-and-go if he'll return:
I've known him and worked with him for so long, that needless to say I trust him. And the audience connects to him in that role. Sometimes I feel like we are still in campaign mode... And then, I think – he was at the US Open last week, and somebody asked him if he was doing Trump. And he said, 'yea.' And his agent Matt DelPiano texted me and said, 'I think he's doing Trump.' And I went oh, ok.
With Baldwin's Trump impression helping Saturday Night Live stay relevant in the political comedy arena these last few years, one would hope Baldwin would keep agreeing to come back, at least until 2020. For now, having him again for at least one more season will have to do.
Saturday Night Live Season 44 kicks off at 11:30 p.m. ET, on Saturday, Sept. 29, 2018, on NBC.