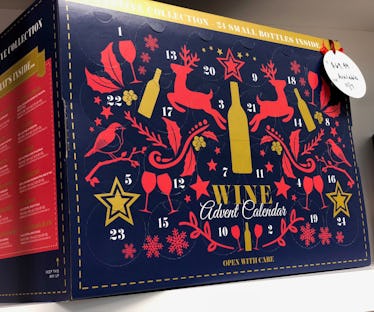 You Can Get A Wine Advent Calendar For A Holiday Countdown, So Bring On December
Courtesy of Aldi
First, there were the delicious (and totally classic) chocolate-filled advent calendars, which almost everyone has come to know and love. Then, the Christmas countdowns got real creative. There were cookie advent calendars, workout advent calendars (yeah, no thanks), and even tea advent calendars. Don't get me wrong — each of them are relatively creative Christmas countdowns — but I'm ready for something new. Thankfully, Aldi's 2018 wine Advent calendar is coming to town, and it's pretty much the only way anybody should be throwing down this holiday season. I'll cheers to that.
Aldi, a Germany-based grocery chain, is blessing wine-lovers throughout the United States this holiday season. According to Aldi, on Nov. 7, 2018, the company will release a wine Advent calendar, which is filled with 24 mini bottles of red, white, and oh-so-fitting-for-the-holidays bubbly wines (!!!). They'll include varieties like Pinot Grigio, Sauvignon Blanc, Merlot, Shiraz, and even Malbec, per Aldi. All of it comes out to about six full bottles of wine, per Food & Wine. It only costs $69.99, and it's fancy AF. You'll end up getting a ton of wine out of it — one glass for every day leading up to Christmas, starting on Dec. 1. Correct me if I'm wrong, but I'm pretty sure this is the actual definition of a Christmas miracle.
Don't freak out, but Aldi actually started selling wine Advent calendars last year in the United Kingdom, according to Food & Wine. I'm bummed that I actually missed out on the 2017 version, but it turns out that this is the first year they're being sold in the United States. Last year's calendar was only sold in Europe, and it was pretty much the exact same as this year's, so don't worry — neither you or I missed out on anything, really.
If you're interested in a double dose of Advent calendar goodness, the German grocer also sells a cheese Advent calendar. Yes, you read that correctly, and it's a total game changer. According to Aldi, the Cheese Advent Calendar will also be available as of Nov. 7, 2018, and it comes with 24 imported mini cheeses. For only $12.99, you'll be able to nosh on a variety of cheddars, Goudas, Edams, and more. If you splurge on both the wine and the cheese advent calendars, you'll be able to enjoy them in tandem — and you'll have yourself an entire merry little Christmas month. You'll get double the fun and double the deliciousness. I'm totally getting in on this, you guys.
There's no better way to ring in the holiday season than getting an Advent calendar. Don't get me wrong, because I'm always down to snack on a piece of chocolate. However, when it comes to a calendar that pops out a mini bottle of wine each day, that's basically a dream come true. Between Aldi's Wine Advent Calendar, and the Advent Cheese Calendar, you're definitely going to be the classiest Christmas queen of them all this holiday season. So, prepare yourself for the celebration of a lifetime. I am so freaking ready.