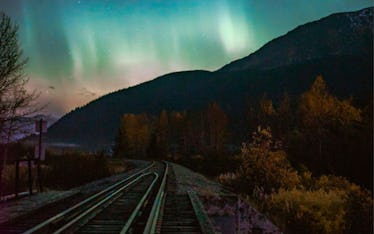 You Can Take A Train Ride To See The Northern Lights In Alaska For A Cozy Adventure
Seeing the Northern Lights is definitely at the top of my travel bucket list. One of the best places to see the Northern Lights is supposed to be Alaska. The 49th state's prime locale make the region one of the top destinations to checking out the pretty pink, green, and blue lights. If you are searching for the trip of a lifetime, look no further than Alaska Railroad's Aurora Train. The locomotive gets you so close to the Northern Lights for what's sure to be an unforgettable trip. With the New Year right around the corner, there's no better resolution (IMO) than to add more travel into your routine come 2019.
The train trip lasts for seven nights and eight days where you will spend your time exploring Alaska's views of the Northern Lights. It also includes a two-night stay in the town of Talkeetna. This small Alaskan town is located at the base of Denali, also known as Mt. McKinley. This is the tallest peak in North America, according to the Talkeetna Chamber. Also included in the Aurora Train tour is a guided sled dog tour with an Iditarod champion kennel, according to Alaska Railroad. Seriously, this trip is shaping up to be my dream vacation. Pretty lights and a dog sled tour? Sign me up.
Alaska Railroad's Aurora Train is currently accepting travelers, with the first departure date slated for Monday, Dec. 24. Yep, that's Christmas Eve. If you aren't going home for the holidays, you may want to think about booking a seat on the Aurora Train for a jolly good time. If you can't swing the Christmas Eve departure this time around, don't worry. There are plenty of other departure dates that might work for you. According to Alaska Railroad, the Aurora Train will also depart on the following dates:
Monday, Feb. 4
Monday, Feb. 25
Monday, March 4
Monday, March 11
Monday, March 18
Monday, March 25
According to Alaska.org, the months of September through March are some of the best times of the year to view the Northern Lights (aka the dead of winter). Summertime doesn't offer particularly great views of the Northern Lights, which is why this train ride wraps up in late March. Throughout your travels, you will have the opportunity to explore Denali National Park, major Alaskan cities like Fairbanks and Anchorage, and a dip in the Chena Hot Springs where you can catch the absolutely stunning aurora borealis.
The train departs from Anchorage. You will be responsible for booking your airfare to Alaska's largest city. Keep an eye out for any last-minute flight deals. If you can be flexible with your travel dates, you might be able to score a better price on your flight. Keep in mind that you'll be flying into Anchorage for the departure and out of Fairbanks once the train ride wraps. The total cost of the Aurora Train tour is $1,479, according to Alaska Railroad. That's really not bad at all, considering you'll be gone for more than a week.
One other thing to note: The price per person is based on double occupancy, according to Alaska Railroad. As with most travel deals, the price, accommodations, and excursions can change without notice. Now it's time to make some travel plans and add the Northern Lights to your 2019 bucket list. BRB while I pack my bags.