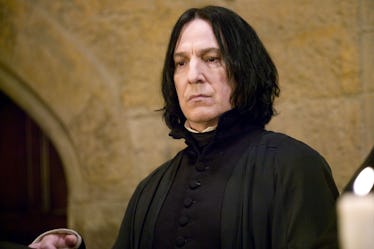 These Letters From Alan Rickman Reveal A Side Of Snape That Will Make 'Potter' Fans Sob
Warner Brothers
The year 2016 started off with an ominous double dose of death. David Bowie passed away on January 10, and Alan Rickman followed four days later. For Potterheads, the latter's death was tough to take. The man who had played Severus Snape, whatever one thinks of the character, had done a superb job embodying him on screen. Now, two years later, Neil Pearson Rare Books has his archives of writings is up for sale, and details of Alan Rickman's Snape letters have come to light, providing insight into what it took to play the Head of Slytherin House on screen.
Now, it should be noted Rickman was cast in the role as part of the plan to have the roles of the adults in the movies played by some of the UK's finest A-list actors. This was decided upon both as a stunt and because the earliest movies would be centered around Harry Potter and his friends at very young ages, when it was felt the child actors might not be able to carry the films by themselves.
Having as much A-list stunt casting around the child actors would both provide many excellent examples of high-class acting for them to follow later down the line, as well as be a draw for the adults to come see the films in the theaters. It worked in both cases. But it also meant Snape, who was really supposed to be all of, say, 30 or 31 when Harry first came to school, was played by a 55-year-old man.
Rickman, meanwhile, was a 55-year-old actor trapped inside a series of films basically being made for children. As one can imagine, this did not always mesh with his idea of "art."
According to Entertainment Weekly:
In one letter, Harry Potter producer David Heyman thanks Rickman for making 2002's Harry Potter and the Chamber of Secrets 'a success.' He adds, 'I know, at times, you are frustrated, but please know that you are an integral part of the films. And you are brilliant.'
Though the first two films are very much children's movies, once the series reached Harry Potter & The Prisoner of Azkaban, they did start aiming for a slightly older audience. But even then, these were not films for adults, but teenagers. By then, Rickman was in his 60s and found the process even more frustrating than before.
Rickman also wrote a note, called 'Inside Snape's Head,' about his work on 2009's The Half-Blood Prince and hinted at frustrations with director David Yates. 'It is as if David Y. has decided that this is not important in the scheme of things i.e. teen audience appeal,' he writes.
Rickman also clashed with directors during the run of the filming production because he knew stuff about his character they didn't. J.K. Rowling revealed to him early on Snape was in love with Lily, and secretly working for Dumbledore throughout Harry's years at Hogwarts, facts which do not come to light until the final films. When directors (like Yates, who has directed every wizarding world film since Harry Potter & The Order of the Phoenix) gave him notes to play things which contradicted this, he had to refuse, without explaining why. That would easily make for tension between them.
But Rowling was grateful for his service. One of the notes from her in the collection reads:
Just back from weeks away and had to send a line about what you wrote in the souvenir programme for Hallows II. Made me very tearful. Thank *you* for doing justice to my most complex character…
While Rickman might have been frustrated by the way things went on set, he maintained good relationships with the cast. The collection includes notes from Daniel Radcliffe, to whom Rickman gifted a copy of The Catcher In The Rye.
The full collection of writings is valued at $1,260,000 (that's £950,000) and is up for auction soon. Check out the complete inventory on the Neil Pearson Rare Books website.