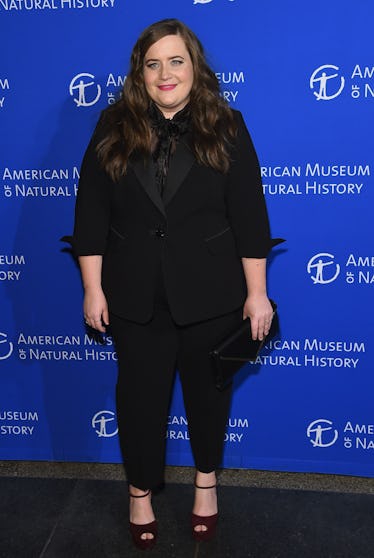 Aidy Bryant Has A Hulu Show In The Works & 'SNL' Fans Will Be Overjoyed
Jamie McCarthy/Getty Images Entertainment/Getty Images
Congrats are in order for SNL's own Li'l Baby Aidy. Breakout star Aidy Bryant will be headlining a new project outside of the long-running sketch comedy show — a Hulu series based on a best-selling memoir. The Hollywood Reporter reports that Aidy Bryant's Hulu show is inspired by blogger Lindy West's Shrill: Notes from a Loud Woman, and is currently in development courtesy of Aidy and Saturday Night Live creator Lorne Michaels. The single-camera comedy is set to surround "a fat young woman who wants to change her life, but not her body," and Aidy co-wrote the adaptation alongside Ali Rushfield (Love) and West herself. This is great news for the mega-talented Bryant, but I selfishly hope she doesn't leave SNL any time soon either.
Aidy has been a cast member at Saturday Night Live since 2012, making her uniquely funny mark ever since she debuted her awkwardly insecure teenage character Morgan in "Girlfriends Talk Show." She's played everyone from Adele to Sarah Huckabee Sanders to Meghan Trainor and most recently channeled her inner assertive Aidy B for a memorable clip with her so-called "best friend" Cardi B. I've watched this six times in the past two weeks, by the way.
In addition to pulling SNL duty, Aidy is currently appearing in the Amy Schumer rom-com I Feel Pretty. The 30-year-old has brought her comedic skills to a handful of memorable roles over the past few years, including a recurring spot on the final season of Girls and a part in the 2017's Oscar-nominated The Big Sick.
"I feel like sometimes when people get SNL there's a major question of like, 'What is the next thing?' And it's like, I just got to SNL and I'm loving it. I really do. I love it. I love it more now even than when I started," Bryant told The Cut last year, which might give fans some hope regarding her future at the show. Hey — Kenan Thompson's been there since 2003.
Aidy Bryant also opened up to The Cut about the significant "switch-flipping" moment she decided to stop obsessing over losing weight:
I finally was like, What if I put all of that energy into just trying to like myself and focus on the things I actually want to do as opposed to this thing that's like a made-up concept? And I'm not kidding, my entire life changed after I did that…Within two years, I was hired by Second City; two years later I was hired by SNL. I stopped letting it be an all-day, everyday thing that defined everything that I did, and it worked.
Elizabeth Banks actually optioned the television adaptation of Shrill back in 2016, and the actress will serve as executive producer on Bryant's new endeavor. The book was a critical success and is characterized as "an uproarious memoir, a feminist rallying cry in a world that thinks gender politics are tedious and that women, especially feminists, can't be funny." Its description also reads:
With inimitable good humor, vulnerability, and boundless charm, Lindy boldly shares how to survive in a world where not all stories are created equal and not all bodies are treated with equal respect, and how to weather hatred, loneliness, harassment, and loss, and walk away laughing. Shrill provocatively dissects what it means to become self-aware the hard way, to go from wanting to be silent and invisible to earning a living defending the silenced in all caps.
There's no word on when Shrill is set to hit Hulu, but in the meantime you can continue to watch Aidy do her hilarious thing on SNL.