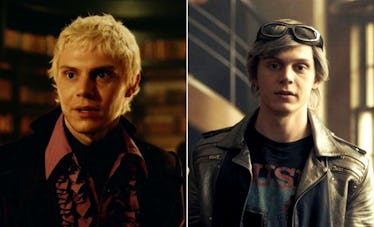 'AHS: Apocalypse' Included An 'X-Men' Easter Egg, But You Definitely Missed It
FX, 20th Century Fox
It is no secret that American Horror Story: Apocalypse is packed with about a thousand different references and easter eggs per episode, but there is one you might have missed. The currently airing eighth season of the horror anthology series promises to tie together the events of past seasons Murder House and Coven, and while we have already gotten a bunch of nods to those seasons, the most recent episode of Apocalypse also included a reference outside of the AHS universe. AHS: Apocalypse included an X-Men easter egg that you might have totally missed.
Spoiler alert: This post will contain a few plot details from the first two episodes of American Horror Story: Apocalypse. Music has played a big part in this season of American Horror Story, especially in the season's second episode, "The Morning After." Outpost 3 is constantly scored by a lone radio, which mysteriously plays certain songs for months on end or will switch to a different song for one play. Towards the end of Episode 2, the radio began playing Fleetwood Mac's "Gold Dust Woman," which seemed to be a clear nod to Coven, since Stevie Nicks herself is a witch on the show. But despite Nicks' voice pouring from the radio, we still have not seen the Coven witches appear.
There was also another song that might have surprised viewers a bit. Partway through the episode, Jim Croce's "Time In A Bottle" played during a scene involving Evan Peters' character Mr. Gallant. That song actually has a pretty strong connection with Evan Peters for X-Men fans, since it also scores his most iconic scene as the speedster Quicksilver in X-Men: Days of Future Past.
Since that scene is one of the most memorable in the new X-Men movies and "Time In A Bottle" is so central to it, a bunch of fans immediately picked up on the song popping up again with Evan Peters on the screen. Priming viewers even more was the fact that X-Men: Apocalypse was playing on FX right before the episode of American Horror Story premiered.
So, what does it all mean? Most likely, the song choice was just a fun easter egg that the writers or maybe even Evan Peters himself wanted to throw in just to throw a wink to the X-Men fans who would recognize it, but other fans started to wonder whether it could be foreshadowing something. Obviously, nobody is expecting any of the X-Men to bust into Outpost 3 and hang out with the American Horror Story crew, but the song could be suggesting some sort of time jump coming up in the season (time travel was also central to Days of Future Past). Fans have been theorizing that we would see a time jump around Episode 5 for a while now, so maybe this goes into that?
Or, maybe the nod to X-Men is meant to make viewers think about mutants, since we know there are mutated people out in the apocalypse that we still have not really seen. I guess we will find out in new episodes of American Horror Story: Apocalypse as it continues to air Wednesday nights at 10 p.m. on FX.