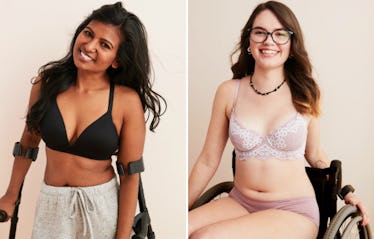 Aerie's New Campaign Features The Most Diverse Group Of Women & It's So Beautiful
ae.com
Most models that you see in ad campaigns are an unrealistic representation of the average woman. American Eagle's lingerie brand Aerie, however, is working to show a more authentic group of models, and Aerie's new lingerie campaign uses one of the most diverse groups yet.
A few years ago, Aerie stopped airbrushing their models which was a huge step toward teaching young women to embrace their natural beauty. Stretch marks were out for everyone to see because there's nothing to hide! When the no-Photoshop movement began, Aerie spoke to Fast Company and said, "This is now our brand. It's not a seasonal campaign for us. It is now how we're talking to our customers." That was four years ago and the retailer has proven themselves to be true to their word.
Aerie is now going a step beyond un-retouched images and is showing off beautiful women with physical and mental disabilities, visible scars, and a multitude of chronic illnesses. The role models come in all shapes and sizes and are all naturally beauties. Aerie and these women are breaking down barriers to show that not everyone can or needs to live up to society's old fashioned definition of "perfect." No one is perfect, and no one needs to be.
Abby Sams was one of the main faces of the shoot, featured wearing two different bras. Sams also heavily promoted the exciting campaign on social media.
"Aerie just sneakily released some of my photos! Look at this disability representation people!!! Also look at me because I cant believe it's actually me so yeah," wrote Sams. She's, understandably, extremely proud of this new project.
Sams identified that the brand used girls with, "Ostomy, Type 1 Diabetes, Vitiligo, arm crutches" as well as "A cancer survivor, down syndrome paralympian, me, and fibromyalgia (+ body hair)." Talk about representation – Aerie really knocked it out of the park with this one.
Sams' photos show off her wheelchair because that's her reality as well as millions of others, and she rocks it.
Another model shows off her ostomy bag, because it's nothing to be ashamed of.
One girl uses her arm crutches (and proudly shows her stretch marks) in the photos instead of hiding them.
Sidenote: I have this bra and love it.
Evelyn Robin Ann has type one diabetes and proves that an insulin pump can be d*mn sexy...
...from any angle.
Scars are nothing but beautiful and they show off the strength of the person who bears them.
Age also has no number in Aerie's campaign.
Down Syndrome is nothing to hide, here.
Don't want to shave your body hair? No problem!
Vitiglio needs absolutely no coverup.
Sams further expressed her appreciation for Aerie, "I love all the support y'all have been giving the Aerie campaign. I see your messages, I promise, and I love them. I'm honored to be able to represent the disabled and chronically ill community. Thank you."
Sams also teased that there's more to come, and that "this is just the beginning." I. Can't. Wait.
In the meantime, though, people are over the moon with everything Aerie is serving out. "I feel... So seen. Like, the girl using forearm crutches!!! I can't even, I'm so excited for this diversity," tweeted one fan.
So many happy tears.
Another happy customer wrote, "The arm crutches makes me really emotional, seeing someone like me wow, this is so so cool!!!!"
So true.
The positive tweets are nearly endless and are making women previously marginalized by the fashion industry feel included and beautiful.