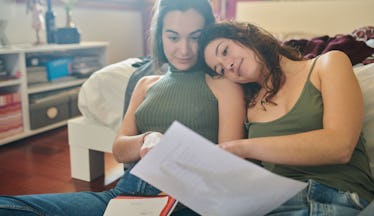 Here's How You Know You're Ready To Add Your SO As Your Beneficiary, Because It's Major
Tell me if this sounds familiar: You start a new job and you're filling your benefits package, when you get to the life insurance page and realize you need to select a beneficiary. Do you put a family member? A friend? Maybe, the time has come for you to consider adding your partner as a beneficiary. Ultimately, the decision of who you want as a beneficiary is totally up to you. It is a major one though, so if you think it might be time to put your SO's name on the dotted line, you want make sure you and your relationship are ready.
To help understand whether or not the time is right to make your partner a beneficiary, I reached out to NYC relationship expert and love coach Susan Winter, who tells Elite Daily she agrees this choice is not one to take lightly. "Making your partner a beneficiary of your estate, investment portfolio, or life insurance policy is a very big deal," she says. "Even if it's only one annuity, this is a major commitment on your part." So, it's essential you have thought it through. Here's how she says you'll know you're ready to take that step, and how and when to talk to your partner about it.