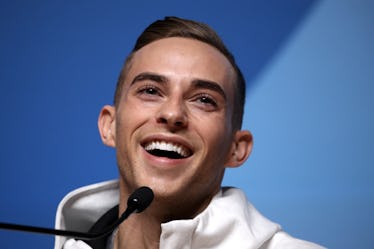 These Hilarious Quotes From Adam Rippon Have Me Totally Obsessed
Chris Graythen/Getty Images Sport/Getty Images
Adam Rippon is an absolute national treasure. Period. When he's not slaying on the ice, he's representing as an LGBTQ+ role model and winning our hearts with incredible commentary. So in case you're not completely sold on the figure skater, I've compiled Adam Rippon's best quotes, just so you can obsess as much as I do.
He might have first gained attention for his impressive figure skating skills, but it's his brilliant one-liners and interview responses that have us all totally infatuated. Whether it's referencing the In-N-Out burger chain or humbly accepting praise, Rippon just truly knows what to say at the right time.
So of course, I had to #bless all of you with some of his best material.
Just read them for yourself...
And you're welcome.
Whether it's complaining about "generic condoms" via Instagram story:
Like, I'm not entirely sure what I was expecting. I thought maybe they'd have like Olympic rings on them or they'd be all different colors, but, no. It's all a myth. And I'm not, like, upset. I'm disappointed. It's alright. Life isn't always what it seems and sometimes the condoms are just generic. And sometimes they're not only just generic, sometimes they're only available at the polyclinic outside the gym. And that's okay.
Or talking about digging into some In-N-Out with equally spectacular Olympian Mirai Nagasu a few years back.
He told NBC,
Four years ago, we were eating In-N-Out on the roof of her house in Arcadia, California, and we were crying that we weren't at the Olympics. And four years later, we're sharing an Olympic podium together.
He's discussed hoping to find some way to quell Olympic debut nerves.
He told NBC Olympics,
I want to throw up. I want to go over to the judges and say 'can I just have a Xanax and a quick drink?'
He told NBC Olympics,
I can't explain witchcraft. I just feel like I'm coming into my own. I'm confident in who I am and what I'm doing. I'm just having a great time.
He told NBC Olympics,
I owe a lot of this medal to Witherspoon. And to my mom. But, like more to Reese, in a way. You know? Because she has more followers on Instagram. You know I want to go out there and I want to make my family proud. I want to make my mom proud. I put so much hard work into this. And, more than anything, I really want to make Reese Witherspoon proud.
Side note: Gauging from Witherspoon's Twitter, it looks like she's a big fan as well.
He said in a press conference on Feb. 14,
Nobody loves me as much as I love me; so I guess I'll just be my own Valentine tomorrow.
He told NBC Olympics,
I might not be the best, but I'm the most fun. I'm going to skate my heart out.
He said in a press conference on Feb. 14,
Sometimes when you're not confident in yourself, to see someone who doesn't care, and I don't care anymore; I really don't care, it gives you that confidence. I remember seeing people who I thought were so confident and exuberant. I remember being young and watching Oprah and being like, 'Damn. That lady is so confident. She can talk to anybody.'
He told "Good Morning America,"
I'm going to go to Target, and I'm going to get a bottle of Sauvignon Blanc Oyster Bay with the twist top. Yeah. Uh-huh. Immediately. You can come right over. I live like 15 minutes from LAX and we can just have a day.
Where can I submit my application to make Adam Rippon my best friend? Serious answers only.
Even though Rippon may not have won first place in figure skating, he's definitely taken gold in tweeting. After all, that's really worth more than any medal, right?
Oh Adam, how I love thee. Don't you ever change.