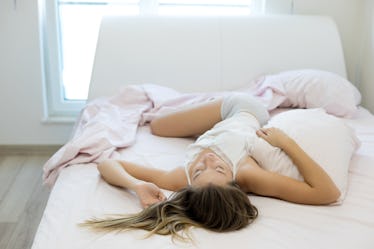 These Adam & Eve Cyber Monday 2019 Deals Are Pleasurably Perfect
bymuratdeniz/E+/Getty Images
Thanksgiving is upon us, which means it's time to spend time with the fam, eat all the pie, and spend the entirety of your bank balance shopping. Black Friday and Cyber Monday are the biggest shopping days of the year, so if you plan on buying gifts this weekend, don't forget this is also the perfect opportunity to treat yourself to some sexy holiday cheer with Adam & Eve's Cyber Monday 2019 deals. Because who doesn't want a fun new toy to play with over the holidays?
If you've spent months eyeing one special little (or not-so-little) vibrator, a sexy toy to use in bed with bae, or a set of lubes to enhance your intimacy, now's the perfect time to spoil yourself with something new, because Adam & Eve is offering some major deals. On Thanksgiving Day, score 40% off one item using the code SCORE from midnight to 11:59 p.m. From Black Friday to Sunday, Dec. 1, you can get 50% off one item when you use the code BONUS50. (That's three whole days of Black Friday, ICYMI.) The deal carries on into Cyber Monday and through Dec. 3.
If you're stoked to save but not really sure where to start, no worries. Here are nine stocking-stuffer-worthy ideas to get you started that'll put the Ho-Ho-HOMG in your holidays this year.