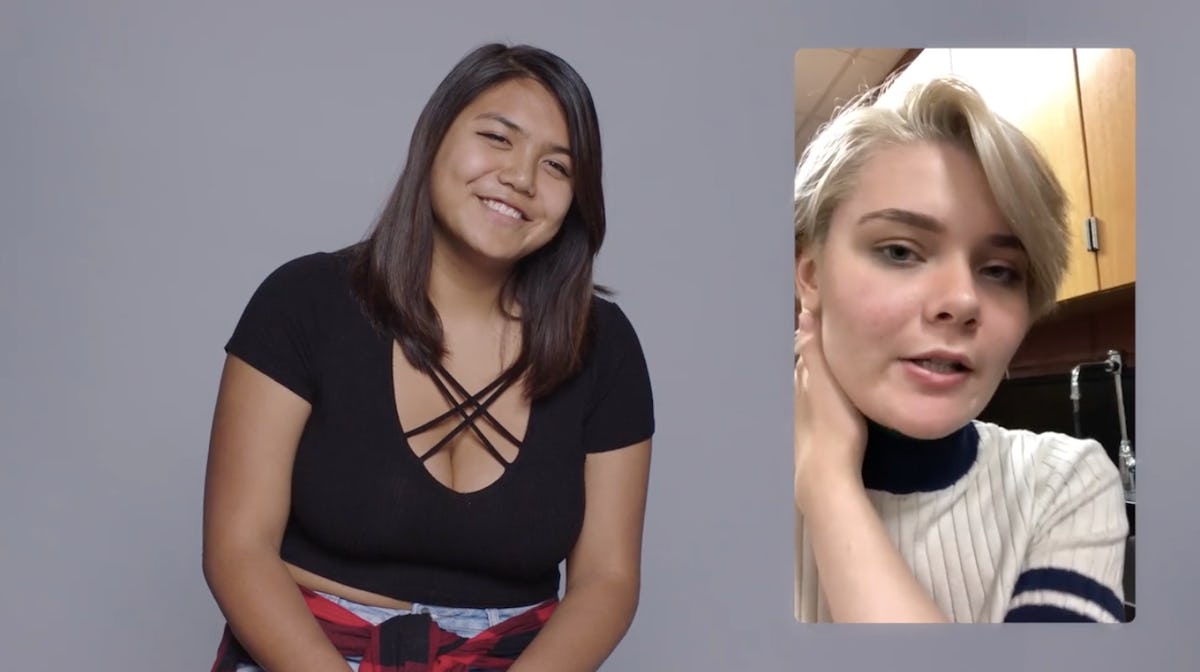 This Social Experiment Yearbook Video Conducted By A Teen Will Have You In Tears
Ad Council
September is flying by people, and before we know it we'll be creeping our way into the year's spookiest month. While October may be known for its Halloween festivities, it also marks Bullying Prevention Month, and numerous organizations are coming together to emphasize this important message. Ad Council's Because Of You yearbook video is the latest initiative that speaks volumes to the reality young adults face today, and how we can make someone's day so much better.
Ad Council's Because of You campaign kicked off Tuesday, Sept. 18, and it's a movement that encourages children and other young adults to face what the impact of words and statements can have on others. To launch this campaign, Ad Council released a short video called the "Yearbook Social Experiment," which features a handful of teens coming face-to-face with the people whose lives where changed by their kind words and selfless actions. The video itself is a heartfelt and emotional journey, but it tells a bigger story into the importance of being kind to others and how even the simplest of gestures can impact another person's entire day.
Perhaps what makes this video so one-of-a-kind is that it focuses on the positive message of uplifting one another instead of highlighting the negativity of bullying. Instead of showing footage of actual bullying and explaining why it's bad, Ad Council decided to showcase how we can put a stop to bullying and prevent people from feeling ostracized and isolated.
In addition to the emotional yearbook video, Ad Council also released a short PSA which compares the impact of hurtful words to kind actions. The video starts off by a number of teens describing how certain words impacted not only their ambitions, but also thoughts about themselves. Even though these stories are tough to listen to, it's important that they're shared. In the video, one girl in particular states that she "knows it's a joke," but the words still hurt her regardless. Oftentimes, people don't understand what they view as funny and meaningless can actually be an extremely different experience for another individual, and this PSA proves that. However, later in the clip, the video features a group of different teens that share how encouraging and positive words helped them succeed in their lives. Ultimately, this PSA is the perfect way to showcase just how impactful words can be on impressionable young adults.
Even though most of us probably planned to spend October dreaming of the perfect Halloween costume and looking forward to some holiday candy, let's instead focus on how we can help showcase Bullying Prevention Month to others. For those who want to know more about the impact of bullying, and how we can help prevent it from happening, PACER's National Bullying Prevention Center offers resources, statistics, and real life stories into the realities of bullying, whether it's face-to-face or online. In addition, the website features a number of fellow organizations and campaigns that are trying to put an end to bullying for once and for all.
These Ad Council videos are proof that bullying is a serious problem impacting young people today. Today, do everyone a favor and offer a kind smile or encouraging word to anyone who might need it.
If you are or someone you know is experiencing bullying and having suicidal thoughts, call 911, or call the National Suicide Prevention Hotline at 1-800-273-8255.