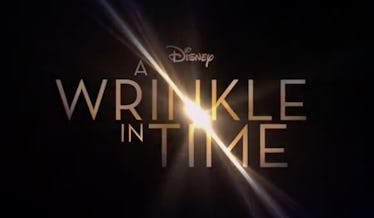 The 'A Wrinkle In Time' Movie Poster Is So Star-Studded It Will Make You Go Blind
Disney/YouTube
You get a poster! And you get a poster! You get a poster! Let's just pretend we just said that in our best Oprah voice because the icon is getting us super pumped for Disney's upcoming adaptation of a beloved book. The brand spankin' new A Wrinkle in Time movie poster has arrived — and it's so star-studded and visually captivating that you are going to need to sit down and take a minute to take it all in. Deep breaths, people.
Oprah. Reese Witherspoon, Mindy Kaling. Storm Reid. The film's cast is a megawatt dream, and we didn't even list all the names involved right there. Director Ava DuVernay's fantasy epic doesn't hit theaters until March 9, 2018, but fans have been given a few sneak peek morsels from the time it started filming up until this awesome stunner of a poster and we're chomping at the bit for what's to come. But wait, there's more! You can tune into the AMAs on Sunday to check out the trailer for A Wrinkle In Time, which will be airing during the ABC broadcast. "Be a warrior" reads the tagline. We're so ready for this. If you were into this book growing up or ever, you're probably with us on the enthusiasm level.
Based on Madeleine L'Engle's acclaimed 1962 novel of the same name, A Wrinkle in Time follows teenaged Meg Murry as she sets out on an intergalactic quest across time and space, guided by three celestial beings, to find her scientist father who is being held captive on another planet. The sci-fi odyssey boasts Chris Pine in the role of Meg's father Alex, and Gugu Mbatha-Raw as her mother, Dr. Kate Murry. Relative newcomer Deric McCabe steps in the shoes of Meg's brilliant brother, Charles Wallace. Meg Murry is played by Storm Reid. Reid spoke to EW about what starring role meant to her and the potential her casting has to inspire others, saying,
It means everything to be a girl of color and play Meg Murry because Meg Murry is, in the books, a Caucasian little girl. It's just surreal because I get to empower other little African-American girls around the world and say that you can be a superhero and you rock and you can conquer the world and you are beautiful just the way you are and your flaws are nothing and you're awesome. It feels really good to be able to inspire not only little girls [but] everyone.
So, who will be taking on the iconic three entities? That's where Reese, Oprah, and Mindy come in. "I'm wisest one," said Oprah of her character Mrs. Which in an interview with GMA. "And I'm on my very first mission," remarked Reese on Mrs. Whatsit. "I'm sort of the newbie rookie of the group, of celestial star beings." "They're the ultimate squad," Ava added.
To be honest, the whole cast and crew of this movie seem to fit this description. If you paid attention to their social media presences throughout filming like I did, you probably noticed that this incredibly talentedWrinkle in Time squad got super tight in the process. Don't you just love when that happens? We're only just a tad jealous. How do you make an Oprah-rita?
We love a good sweeping family friendly fantasy film, especially one with powerful lasting messages and a team of impressive creative voices behind it. The teaser Disney released over the summer proves the project is sure to be dazzling piece of cinematic art that will likely be one of 2018's biggest blockbusters. March can't come soon enough, but at least we can look forward to Sunday's big trailer reveal.