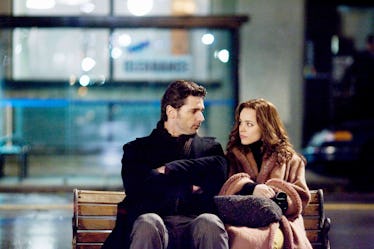 A 'The Time-Traveler's Wife' Series Is Coming To HBO, So Get Ready To Cry
New Line Cinema
Most science fiction and time travel stories are action-adventure tales. From Doctor Who to Quantum Leap, they usually feature a protagonist, typically male, who moves back and forth through time to save lives and solve problems. But what about someone who travels through time and isn't really a hero? What if they were just an average person trying to have a wife and family? That's the plot of The Time-Traveler's Wife, a series coming to HBO in the next year or so.
Based on the 2003 novel on the same name by Audrey Niffenegger, the story is a science fiction-based romance between Henry DeTamble and Clare Anne Abshire. Henry has a genetic disorder, known as Chrono-Impairment, which causes him to suddenly and randomly travel through time with no warning and no control over it. The book tells the story first via Henry's out-of-order perspective and then through Claire's linear experience of their romance. Over the course of their jumbled life together they manage to conceive a child, Alba, who inherits her father's abilities, though she had more control over them than he does.
The book was already made into a feature film back in 2009, starring Rachael McAdams in the title role of Claire and Eric Bana as Henry. Now, HBO has ordered a TV series based on the book from Steven Moffat, who spent the last decade as the showrunner for the longest-running time travel show on television, Doctor Who.
According to Deadline, which broke the news:
In a competitive situation, HBO has landed The Time Traveler's Wife, a drama from top UK writer-producer Steven Moffat (Doctor Who, Sherlock), with a straight to series order. I hear the project had been pursued by multiple outlets, including Amazon whose topper Jeff Bezos was involved in the effort.
A "straight-to-series order," for those unfamiliar with TV jargon, means the show is going to skip the stage where execs read the script first, then put the show through to make a pilot, before agreeing to put in an order for a season's worth of episodes. It's a method favored by streaming services, like Amazon, who don't have to worry about advertisers and shareholders.
HBO doesn't usually agree to do this. For instance, the new Game of Thrones prequel, despite being an almost certainty for 2020, is going through all the stages of approval, to guarantee the best show possible. That HBO agreed to it suggests they wanted to beat Amazon, as well as how much they trust Moffat with the concept.
They have good reason to trust Moffat, though. Before he took over as showrunner for Doctor Who, he wrote for it. His first script was a story inspired by The Time Traveler's Wife. Called "The Girl In The Fireplace," it's considered a classic of the David Tennant era. Moffat also has experience doing successful romantic comedy/drama television, having written the UK show Coupling before getting involved with Doctor Who.
The Time Traveler's Wife does not have a debut date set yet, but will probably be expected to arrive in late 2019 or 2020.