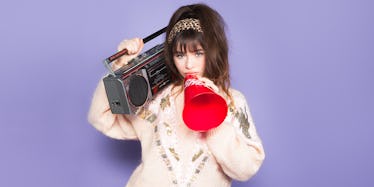 'Unfortunate Events' Star Malina Weissman Warns The Show "Always Gets Worse" – EXCLUSIVE
Emily Assiran
Despite warnings to "look away, look away," fans of Netflix's A Series Of Unfortunate Events series dropped everything on March 30 to binge Season 2. The second season, which chronicles Lemony Snicket's A Series Of Unfortunate Events books five through nine, is just as deliciously miserable as the first. Neil Patrick Harris continues his role as the evil Count Olaf, while the three Baudelaire orphans — Violet, Klaus, and Sunny — are plopped at the decrepit Prufrock Preparatory School. The Baudelaire children continue to weave through dark and twisted obstacles while maintaining a level of grace and inventiveness that only a trio of orphans being tormented by demonic Count could have. Elite Daily had the chance to sit down with Malina Weissman, who plays Violet Baudelaire in A Series Of Unfortunate Events, to discuss the every tragic detail of Season 2.
Speaking on some of the major differences between Season 1 and Season 2 as it pertains to her character, the 15-year-old star says, "I think Season 2 is so much more empowering for the Baudelaires... because in the first season, we kind of let the adults talk. We asked 'What should we do next?' to the adults and now we kind of realize that if we don't do anything, we're not going to get anywhere. So, Season 2 is way more proactive for the Baudelaires. They're trying to get somewhere, they're trying to figure out what happens with their parents, they're trying to save their sister, so much more is happening and they're trying so many new things they didn't try in Season 1."
In Season 2, the Baudelaires form an alliance with the Quagmire orphans, a brother-sister duo with an unfortunate, fire-based story similar to theirs. They work together, before Olaf catches wind and whisks the Quagmires away, to uncover the truth about what happened to their parents and the mysterious V.F.D. organization.
Since the Netflix series follows the book series so closely, Weissman tells Elite Daily some specific tiny details fans who never read the books should look out for. "You might not know right off the bat if you just watch the show what's going on with V.F.D., but if you did read the books you'd probably be looking out for all these V.F.D. Easter eggs," she says. "For people who didn't read the books, it's more of a mystery and they have to figure out why are people showing these three letters everywhere."
As book readers know, V.F.D. (aka the Volunteer Fire Department) is explained in The Penultimate Peril: "V.F.D. was once a united group of volunteers, trying to extinguish fires — both literally and figuratively. But now there are two groups of bitter enemies." The series explains the Baudelaire's parents' involvement in the organization and pieces together the way it led to their ultimate demise.
At the end of the Season 2, the Baudelaire children find out someone survived the fire that changed their lives, and that someone could be one of their parents. However, audiences are well aware that any small sparkle of hope on the show is usually met with a tsunami of disappointment.
Weissman warns fans about the show's cliffhanger leading into Season 3, and, with an answer on-brand with the show's plot, tells Elite Daily, "It's worse, it always gets worse, but don't be disappointed yet."
So there's still hope... maybe.
The show is set to end after Season 3, once all the books have had their designated two-episode run. Weissman opens up about the details of filming Season 3 and what it's been like working with such esteemed actors like Neil Patrick Harris and the newest addition, Alison Williams. "It's all been incredible. I'm on Season 3 right now, filming in Vancouver and Alison is doing scenes with us and Neil is doing scenes with us. We get the privilege of working with so many incredible people who come on every different episode, because every two episodes we have a different guest star." She continues, saying, "Being a child actor, it's so incredible being able to watch these incredible actors who are adults and who have way more experience than I do. It's so amazing to just be able to watch them work and get tips from them and just be able to ask them questions about life."
There's a lot of misery and horrifically quirky trauma to look forward to. A Series Of Unfortunate Events Season 2 is now streaming on Netflix.