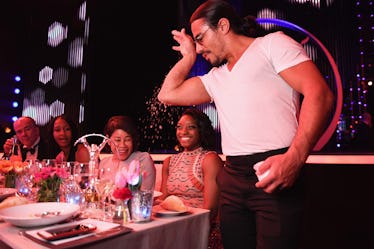 A Salt Bae Restaurant Is Opening In New York So Make Your Plans ASAP
Stuart C. Wilson/Getty Images Sport/Getty Images
Just over a year ago, we were blessed with the first great meme of 2017. His name was #SaltBae, and he became an icon on Twitter and Instagram. Salt Bae, whose real name is Nusret Gökçe, is a Turkish chef, known for treating his fine cuts of meat with precision, care, and honestly, quite a bit of passion. Although the meme eventually died down, no one could forget the way Gökçe sprinkled salt on his Ottoman Steak — the man has got more flourish than I've ever seen on the Food Network. If watching his videos makes your mouth water, have no fear: a SaltBae restaurant in New York City is coming soon. Clear your schedules, people.
According to AM New York, Instagram's favorite chef is opening a new restaurant at 60 W. 53rd St. in New York City, at the base of the CBS building. It seats 150 people indoors and has an outdoor space that seats 80 more. The restaurant's defining decoration is a giant black-and-white mural of Gökçe himself, in his sprinkling pose. The restaurant is also accented by potted palm plants, slabs of Himalayan pink salt, and light fixtures in the shape of meat hooks. And just in case your seat doesn't have a good view of the mural, one window is emblazoned with the hashtag "SaltBae." A Nusr-Et representative told Eater that the restaurant will open to the public on Thursday, Jan. 18.
If you're already hungry and counting down until you can make a reservation, you can check out the Nusr-Et general menu online. It includes a number of steakhouse favorites, including steak tartare, beef tenderloin, and filet mignon. If you're not super into steak, they also offer lamb, burgers, and Turkish sausage. For dessert, you have your choice of söbiyet, orange truffle, vanilla ice cream, or baklava.
The restaurant is the thirteenth Nusr-Et Steakhouse in the world. The restaurant has multiple locations across Turkey, as well as in Dubai and, as of November 2017, Miami. Gökçe is one of the men behind the restaurant, along with Mithat Erdem. This makes sense, as a majority of Gökçe's social media content features him caressing, slapping, and rubbing various cuts of meat, before slicing into them and, of course, salting them.
Gökçe became a viral sensation last year when the internet got hold of a particularly entertaining video from his Instagram, titled "Ottoman Steak." In the video, he is seen removing a full steak from the bone before quickly slicing through it. The video ends with Gökçe grabbing a pinch of salt and sprinkling it in style, allowing the wind to carry the grains gently over the steak.
At first, people were drawn to the extra-ness of it all, comparing Gökçe's treatment of his steaks to how lovers should treat each other. But his salt sprinkling quickly became applicable to a number of situations, as evidenced by some hilarious tweets.
Gökçe has posted a number of videos and photos from the new Nusr-Et Steakhouse on his Instagram, including one from behind the bar. In the video, he's seen mixing a cocktail that appears to contain a cube of dry ice, because is your cocktail really a cocktail if it doesn't have fog coming out of it? Gökçe tosses the ice cube into the air, catches it in a rose gold shaker, and proceeds to shake it up, as flashy as ever. If you decide to drop by, there's a chance that you might see him, so be sure to rock your most extra outfit to keep up with the man himself.
Check out the entire Gen Why series and other videos on Facebook and the Bustle app across Apple TV, Roku, and Amazon Fire TV.