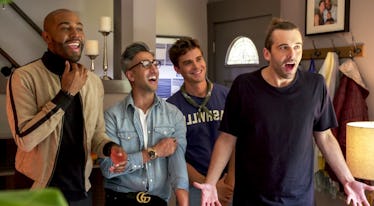 The Fab Five Teased A Celebrity Cameo In 'Queer Eye' Season 3, Here's Who It Might Be
Netflix
After two seasons of changing average Joes into more stylish and confident men, Queer Eye's Fab Five might be turning their attention to a celebrity in the upcoming season. Antoni Porowski, Tan France, Karamo Brown, Bobby Berk, and Jonathan Van Ness are currently promoting the third season of their Netflix makeover series after recently wrapping filming, and they dropped a pretty exciting detail about the new run of episodes: Queer Eye Season 3 may include a celebrity cameo! Van Ness spilled to Entertainment Tonight about the brush with fame included in the upcoming season, but did not reveal the identity of the superstar guest. We have our guesses, though!
In a new Entertainment Tonight interview, Jonathan Van Ness all but confirmed that fans will see a celebrity on Season 3 of Queer Eye:
I will say this much: the biggest of the big of the big of the big of the most major earth-moving, earth-shattering cameos could maybe happen. I don't know ... But what I'll say is that it would be earth-shattering and it would be very major and I'm really excited about it.
Although Van Ness made sure to use same cagey language, it definitely sounds like a celebrity cameo is coming in some capacity, and with all of the famous fans that have professed their love for Queer Eye, the Fab Five probably have their pic of celebs. So just who could this mystery celebrity guest be? Here are some of the best guesses:
Post Malone
After the second season of Queer Eye aired, Karamo Brown noted how often fans had suggest rapper Post Malone appear on the show. Post Malone replied that people were just criticizing his appearance with the suggestion, but also revealed that he is a big fan of the show.
That brief Twitter interaction went viral, and soon a Queer Eye/Post Malone collaboration became more than just a silly joke, with Post Malone saying he'd be open to a Queer Eye makeover and Jonathan Van Ness responding that he was all-in for it as well. So, did they manage to work out a Post Malone cameo in the new season? This whole exchange went down pretty recently, so it might have been a bit of a rush if it happened, but then again, the Queer Eye team only needs one week to execute their makeovers.
Justin Theroux
Out of all the stars that have grown close to the Queer Eye cast, Justin Theroux seems to have bonded with them the most. Theroux recently gushed about his friendship with Jonathan, Tan, and Antoni specifically on Jimmy Kimmel Live, saying that he invited Jonathan over on a whim on Easter, and the actor immediately hit it off with the NYC-based half of the group. He revealed that he does everything from cooking meals to crafting outfits with the group, so the obvious next step is to let them make him over, right?
Pete Davidson
Another one of the closest celebrity friendships the Queer Eye guys have created since starting their show is with Saturday Night Live star Pete Davidson. Tan France actually already gave Davidson a mini-makeover in a digital exclusive for SNL, but he has yet to get the full Queer Eye treatment with the entire Fab Five.
Jon Bon Jovi
And finally, Jon Bon Jovi has also come out as a Queer Eye superfan when he told Tan what a fan he was and asked the Fab Five for a photo together before going on the Today show. He even suggested a makeover for himself when he tweeted out the photo. Maybe that will actually be a reality in Season 3?
Queer Eye Season 3, which will see the Fab Five relocated to Kansas City, Missouri, will premiere on Netflix sometime in 2019.