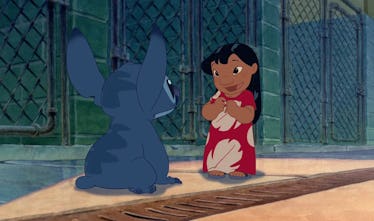 Try To Contain Your Excitement, Because A Live-Action 'Lilo & Stitch' Movie Is Coming
Disney
Here's another updated version of one of your childhood favorites to look forward to. A live-action Lilo & Stitch movie is in the works at Disney, joining the studio's growing list of revivals of classic animated films. According to The Hollywood Reporter, the project is slated to be a mix of live-action and CG. It will be produced by Dan Lin and Jonathan Eirich, who are behind next year's Aladdin remake.
The original Lilo & Stitch hit theaters back in 2002. The sweet cartoon tale followed a young Hawaiian girl named Lilo who adopts and befriends a dog that turns out to be an alien designed for destruction called "Experiment 626." The film didn't reach the box office success that other Disney animated creations like The Lion King has, but favorable reviews and continued fan support have made it a favorite franchise over the years. The film spawned direct-to-video and television sequels, as well as a TV series. It's unclear as to whether the Lilo & Stitch live-action version will get a theatrical release or be available through the studio's streaming service, which is set for a 2019 launch. There's no word on a premiere date at this time.
Disney has been on the remake train since it released the Sleeping Beauty reimagining Maleficent in 2014. From there, Cinderella, The Jungle Book, Pete's Dragon, and Beauty and the Beast all received big screen live-action updates. The studio obviously isn't slowing down any time soon. In fact, they're just getting started. Tim Burton's magical Dumbo is expected to fly into theaters on March 29, 2019 starring Colin Farrell and Eva Green. A stunner-of-a-trailer was unveiled back in June.
Aladdin is another anticipated remake that will see a 2019 debut. Will Smith steps into Robin Williams' iconic Genie role in the Guy Ritchie-directed take on the 1992 animated classic. The movie has a release date of May 24, 2019. The Lion King, featuring powerhouses like Beyonce and Seth Rogen, will follow that summer. Mark your calendars for July 19, 2019. Mulan is planned for March 27, 2020.
Other titles getting new live-action life? Disney has announced a handful of other proposed projects, including Pinocchio, The Sword in the Stone, and Lady and the Tramp. Hamilton creator Lin-Manuel Miranda is attached to work on The Little Mermaid, which will be directed by Rob Marshall (Chicago, Mary Poppins Returns). Rumors began swirling in August that Zendaya was signing on to play Ariel.
Yup — it's a whole new world of remakes for Disney these days, whether you're down with seeing movies you loved as a kid get reborn or not.
"We're not looking at anything very recent, [anything] that still feels like it's still the provenance of current Disney animation," Sean Bailey, president of Motion Picture Production at Walt Disney Studios, told New York Magazine last year.
Recent might have somewhat of a loose definition since Lilo & Stitch came out less than 20 years ago, but to be fair — many viewers of the film who witnessed it premiere when they were kids are approaching their 30s by now.