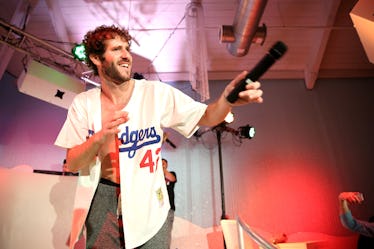 Guys, Lil Dicky Is Getting His Own Comedy Show With Kevin Hart & No, I'm Not Kidding
Monica Schipper/Getty Images Entertainment/Getty Images
I can't believe I'm saying this, but you know who deserves his own TV show? Lil Dicky. I haven't always been a huge fan of the rapper and comedian, but the release of "Freaky Friday" totally changed that, and now, I'm desperate for more Lil Dicky. As it turns out, my wishes are about to come true: A Lil Dicky comedy show is coming to FX, and you know it's about to be ah-mazing. No, it's not Freaky Friday, guys. This is actually happening, so get ready for some major laughs.
According to Variety, the FX series will be inspired by Lil Dicky's transformation from Dave Burd — I definitely didn't know that was his real name — into a world famous music star. "The series is centered around a suburban neurotic man in his late twenties who has convinced himself that he's destined to be one of the best rappers of all time. Now, he must convince the world," writes Variety. Sound familiar, anyone?
As if a series about (and starring) Lil Dicky weren't exciting enough, the show will also be heavily influenced by other music and comedy greats. The iconic comedian Kevin Hart will serve as executive producer via his production company Hartbeat Productions, and Scooter Braun — manager of Justin Bieber, Ariana Grande, and more A-list stars — will also have an executive producer credit on the still-untitled show. In addition, The League creator Jeff Schaffer co-created the story with Lil Dicky, so if you love The League's hilarious and often-inappropriate tone, chances are you'll be obsessed with the new Lil Dicky comedy.
But before you get too excited about Lil Dicky's new series, I have some less than amazing news: FX has done nothing more than order a pilot for the comedy series. Rather than give the show a full-season order, FX is playing it safe by waiting to see the completed pilot before committing to any more episodes. I guess that's fair considering that you never know exactly what Lil Dicky will come up with. But that being said, I'm confident that Lil Dicky's pilot (which he wrote, because of course he did) will impress FX so much that they just give him an Emmy right then and there. That's totally how it works, right?
As for the actual of the content of the show, that's anyone's guess. In addition to writing and starring in the pilot, Lil Dicky will serve as the "executive producer for music," according to Variety, so I'm assuming that the show will feature some new original music. Would you expect anything less? Maybe we'll get an inside look into Lil Dicky's songwriting process — or maybe we'll just see him strike out with multiple women and then get some serious writer's block as he tries to write about it. Yeah, the second seems a little more likely.
After the massive success of "Freaky Friday," it's not shocking that a TV network would be interested in pursuing some kind of show about Lil Dicky. The rapper/comedian has been on the scene since his "Ex-Boyfriend" video went viral on YouTube in 2013, but "Freaky Friday" took him to a whole new level. I mean, not just anyone could convince Kendall Jenner to sing, "I'm Kendall Jenner. I got a vagina!" in a song featuring Chris Brown, DJ Khaled, and Ed Sheeran.
Now that I think about it, if the Lil Dicky series could explain how all these stars agreed to make cameos in "Freaky Friday," that would be great. I'm desperate to know what it's like to have DJ Khaled, Kendall Jenner, and Ed Sheeran in a room together. Oh well... I guess I'll have to wait until Season 3 to find out.