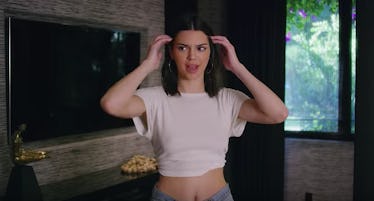 Kendall Jenner Sings In Lil Dicky's New Music Video & WTF Did I Just Watch?
YouTube
Hollywood is weird, man. Just when you think you have your celebrities in order, they go and do something totally unexpected or — as they say in showbiz — "off-brand." For example, you might know that Kendall Jenner is a member of the famous Kardashian family and also a successful supermodel. But I bet you didn't know she was a singer, too. Now ya do. Kendall Jenner singing in Lil Dicky's "Freaky Friday" music video is alarming, shocking, confusing, and making me question my entire life. You guys get it.
To understand how Jenner became involved in Lil Dicky's music video, you have to understand Lil Dicky. Dicky's birth name is actually David Burn, and his career path into rapping is rather unusual. Dicky is an ex-account manager who turned into a comedian rapper after releasing a music video on YouTube called "Ex-Boyfriend." The video quickly went viral, causing Lil Dicky to crowdfund the next chapter of his rapping career. It worked, and now he collaborates with some of hip-hop and R&B's biggest veterans like Snoop Dogg and Chris Brown.
Yeah, I guess Lil Dicky is famous.
His latest video, "Freaky-Friday," unravels a tale similar to the famous movie plot, except in this video, Lil Dicky swaps bodies with Chris Brown.
Take a look and see if you can spot Kendall Jenner among all of the madness.
It's a lot to take in. I'll give you a minute. (And please don't even get me started on Ed Sheeran because we don't have enough hours in the day.)
Let's break this down. What do we know?
The storyline here is that a man at a Chinese restaurant pulls a magic trick and turns Lil Dicky into Chris Brown. Brown and Dicky walk around in each other's bodies for a little while until they finally meet in a nightclub where the man from the restaurant is also hanging out. Using his magical powers, the man turns Dicky into Ed Sheeran, DJ Khaled, and then ultimately, Kendall Jenner.
And then... Jenner sings.
Sure, her lyrics are funny and the bit is clearly part of the music video's whole "shtick," but it comes as a shock nonetheless. Jenner (playing Dicky stuck inside Jenner's body) sings the words:
I'm Kendall Jenner. I got a vagina. I'm gonna explore that right now. I'm gonna learn. I'm gonna understand the inner workings of a woman!
Yes, her voice is clearly auto-tuned, but her short verse is still hilarious and concludes the entire song.
Jenner seems to have an affinity for alternative comedy. There's a man on Instagram who goes by Kirby Jenner who gained a huge following by photoshopping himself into some of Jenner's famous editorial spreads and paparazzi pics. Jenner must have caught on to him, as Kirby briefly appeared in the latest season of Keeping Up With The Kardashians promo video.
Jenner's reported boyfriend Blake Griffin also dabbles into comedy. While he professionally plays basketball for the NBA, E! News reports Jenner recently supported her funny-honey at a comedy show in December where he performed for a packed room at the Avalon Hollywood in Los Angeles.
A source told E! News,
Kendall was there supporting Blake. She arrived at The Avalon a few minutes before the show started and greeted several of Blake's friends. She seemed to know them well and they all stood around chatting.
The insider also said Jenner seemed to have a good time:
Kendall was seated at a table in the front where she could see Blake on stage as he introduced the show. She was very low key but she clapped and laughed at many of the jokes.
Honestly? There's nothing cooler than a super famous person who has a sense of humor.
If you're looking for a great way to procrastinate during the rest of your workday, I highly recommend checking out some of Lil Dicky's other music videos.
I'll get you started with "Ex-Boyfriend" here. Enjoy.